2020 has certainly not been what anyone expected. We reworked plans over and over to create a new normal. It was hard work but honestly, some of those changes have turned out to be an improvement on how we did things before. We're proud of our accomplishments as a small business, as artists, as team members. Now more than ever we saw our creativity did not die in 2020, it soared and propelled us to new heights.
Each year we write a blog about our plans for the upcoming year. Take a look here to see what we foresaw for 2020 and then come back and see how our reality actually played out.
In January, April attended a Hot Glass Sculpting workshop taught by Karen Willenbrink-Johnsen & Jasen Johnsen. This class was held at the YAYA Art Center in New Orleans. This workshop focused on hot-sculpting techniques. Participants experimented with sculpting, surface textures, color applications, and assembly of components, among other techniques.
Working with a team, they made an incredible glass dragon inspired by Mardi Gras floats. This workshop was a great experience for April and an exciting start to a new year, which we know took a turn not too long after. Read more about this workshop experience here.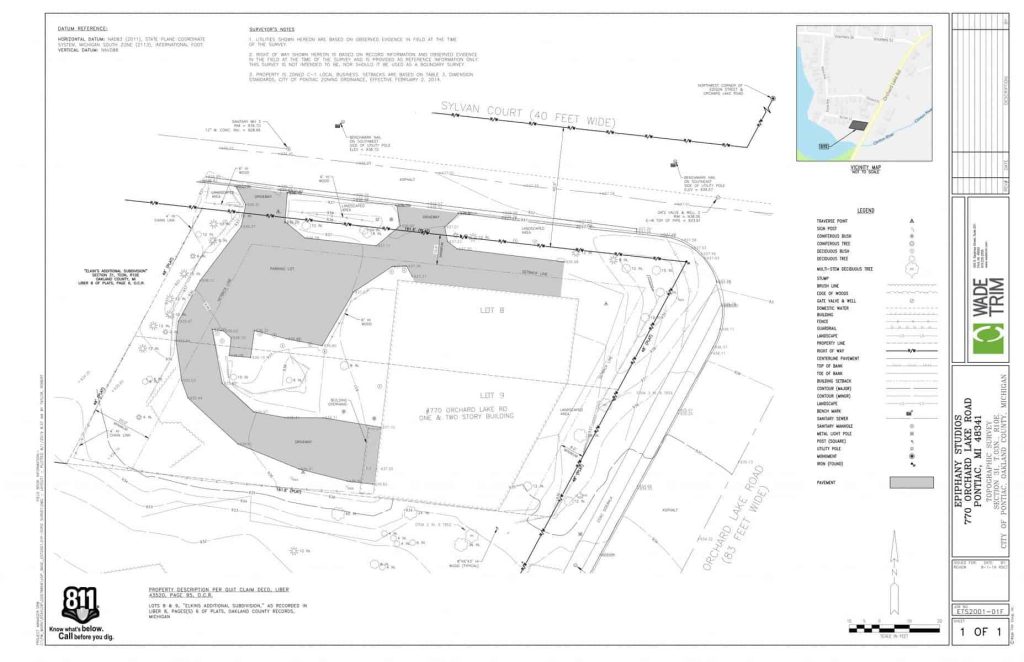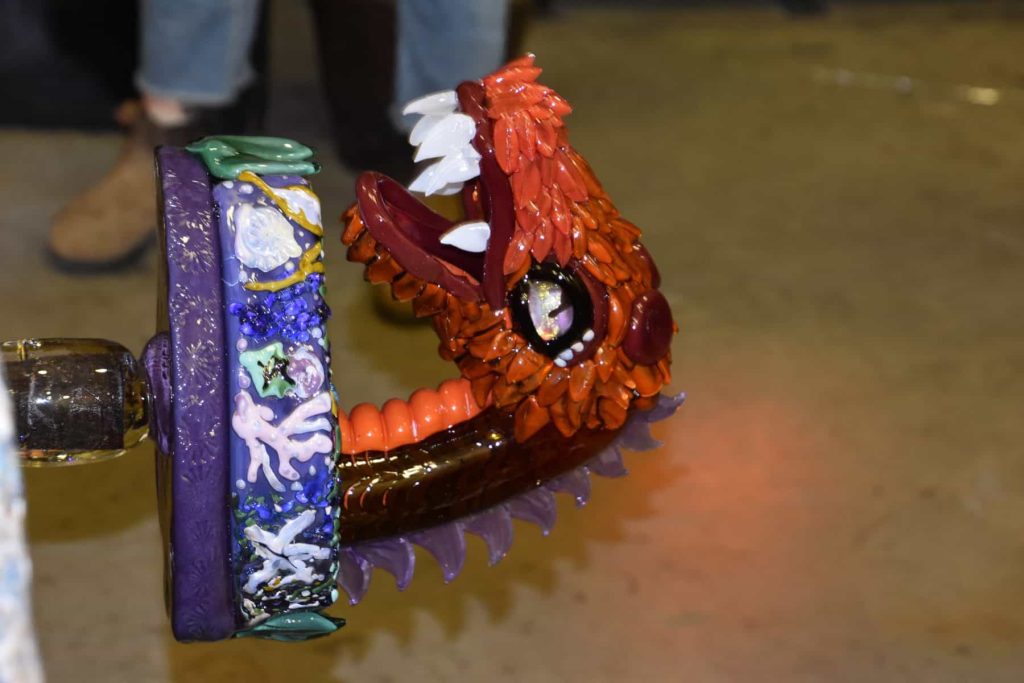 Our (Postponed) Expansion
If you followed us during our Kickstarter campaign last September (read more about it here), you know we were planning to add a second building to the studio starting in the Spring. Unfortunately, Covid hit just before we were scheduled to break ground and the project has been postponed until the Spring of 2021.
Once we can get started, we'll be sharing updates with all of you, so keep an eye out!
Finding Inspiration and Making New Art
This year we created a LOT of new art. More than we usually do in just one year. And we love how much you've loved these new creations. Let's take a look at what came out of the furnaces this year.
At the start of the year, April created her Epicycles sculpture series. These pieces look like modern art paintings made three-dimensional and are absolutely amazing. You can find the full collection here or get one of your own here.
We began playing with and using dichroic glass for the first time this year. It started out with a commission from a major client and snowballed from there. Our Vedic Paperweights and Starry Night Stars feature this ethereal glass that sparkles beautifully in the light. You can read more about dichroic and other types of specialty glass here.
Though we've retired all our wine decanters (and some other epiphany classics, which you can read about here), we just started making these amazing wine stoppers! The center of each wine stopper has beautiful designs made from cane. And they make amazing gifts – for yourself or the wine lovers in your life. Click here to see how we make cane in the studio – it's an amazing process.
Our Birds of Beauty collection was definitely one of the most popular launches of the year. Over three months we released the The Loving Cardinal, The Joyful Blue Bird and The Peaceful Dove and before Thanksgiving we created the Abundant Turkey. We're so happy that you love these and we're planning to expand the collection in the new year to have a total of 12 birds! If you'd like first access when we start releasing them, sign up for our newsletter.
Magical Maple Leaves were a cute fall release that we had a lot of fun creating. Available in two sizes and a variety of Fall-inspired colors, they make gorgeous decor for when the weather turns chilly.
As you can see, we were working hard all year to bring you amazing new designs! We're excited to see what 2021 will bring.
P.S. Click the images or links above to find these pieces in our webstore!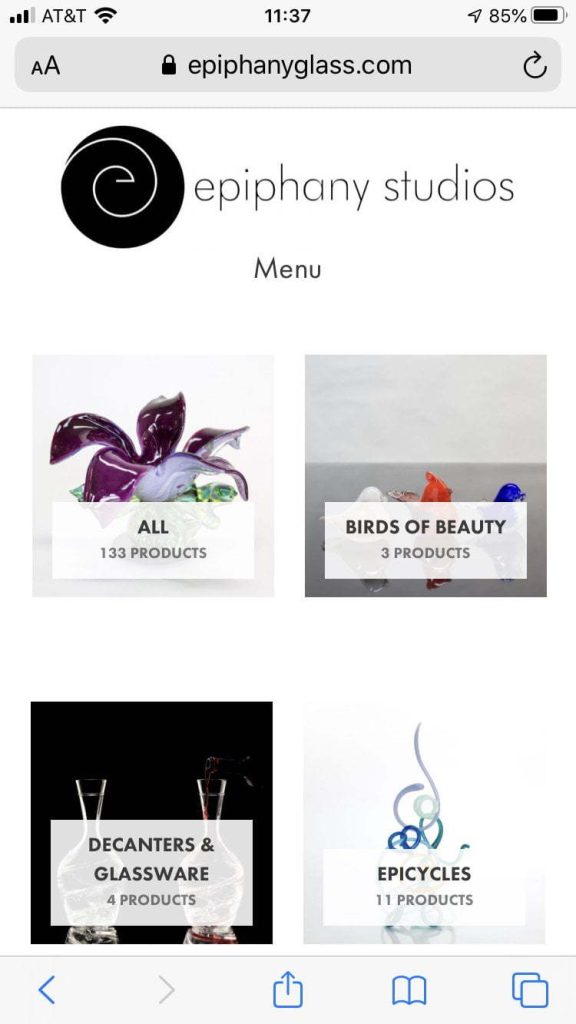 Moving Online & The New Normal
We're lucky that we already have an online presence, so making the switch to online was a matter of expanding on our foundation. We worked hard to bring a large selection of what we have in the studio to you in our webstore. In the past month we've upped our game even more to make the shopping experience better for you no matter what device you're using. These changes also include a quick view for all of our artwork in the the webstore, and fun additions like Wish Lists if you have an account.
Aside from growing our webstore, we've been doing all we can to keep you up-to-date with us. That means we're on social media, posting regular blogs and sending out a weekly newsletter. We hope these regular updates make you feel connected and that you enjoy the content we share! If you're interested in getting exclusive content, including videos and pictures that we won't post to social media, first access to new art in the webstore, and coupons then sign up for our newsletter here. 
We've been making memorial glass art for years but we decided to finally make it official and to make it easily available to everyone online. If you've lost a loved one or pet, you can send us a tablespoon of their ashes to incorporate into a beautiful piece of glass of your choosing. We're so grateful to be able to offer meaningful custom art for you, especially during such a difficult year. Click here to learn more about what we make, how we make it and read testimonials about how these pieces have impacted the people that have ordered them.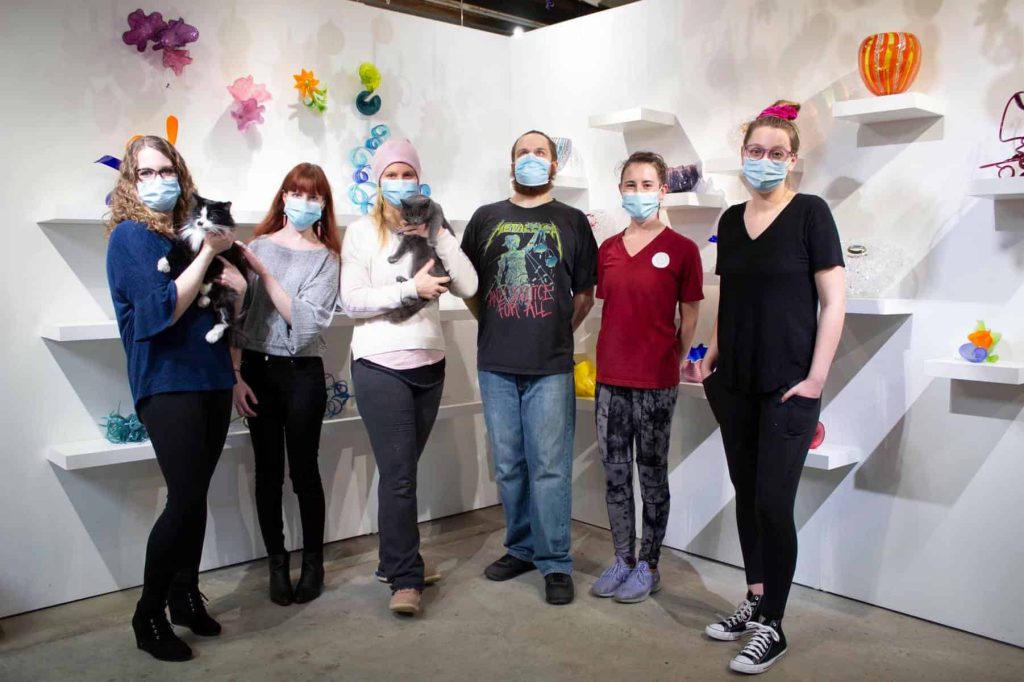 This year our Holiday Show was a bit different from years past. To account for limited capacity, we spread the event out over two weekends and had senior shopping during the week. We had tents with warming stations and holiday treats and beverages for guests to enjoy while they waited their turn to shop.
We couldn't hold our workshops, but we had live glass blowing demonstrations going every day so guests could still enjoy watching the artists work. 
We offered curbside pickup as well as virtual shopping appointments (which we continue to offer) so people could shop safely from home. 
It was quite a shift from how we usually do our open studios, but we're pretty happy with how it went and hope you had a good experience as well!
This year we saw some changes to #teamepiphany. Liz Coy, a graduate of CCS, started working with us in the Fall and we're so grateful to have her on the team! We're so lucky to have such a great team working together and adapting quickly throughout the year.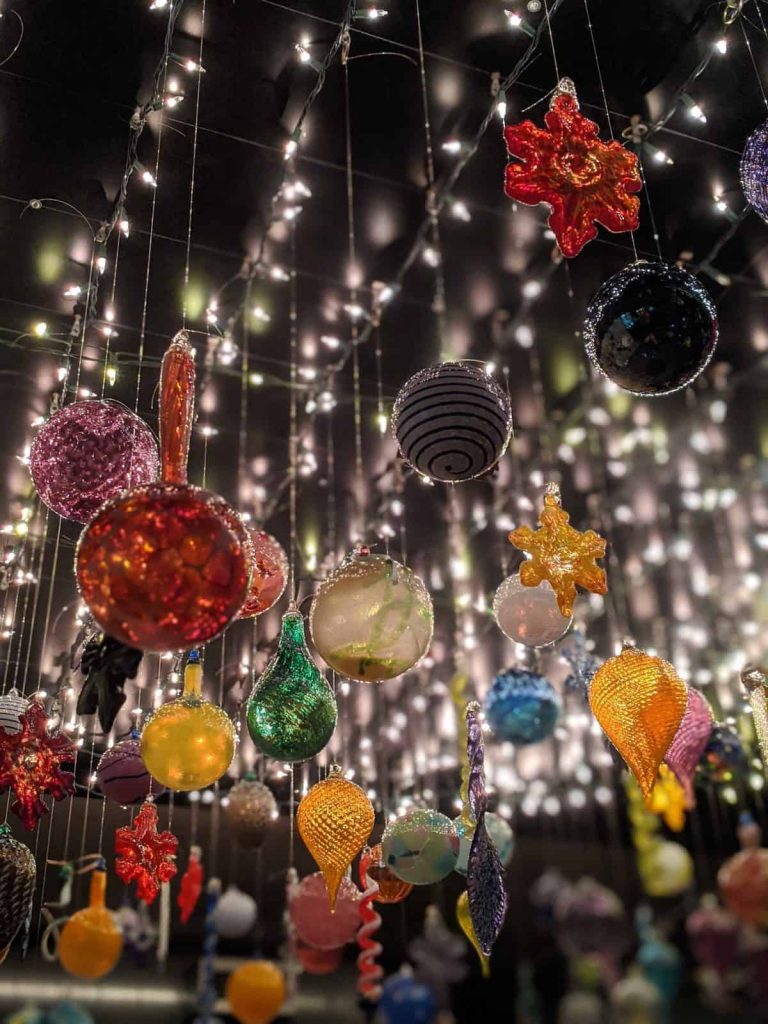 So what's next for us? We have BIG, BIG plans, but we had those last year too so we're playing it a little closer to the vest this time around. Making plans, making back up plans B, C, and D and seeing what the future holds. If you'd like to come on this journey with us sign up for our newsletter and get weekly updates. You can follow us on Facebook and Instagram too, but only newsletter subscribers get our best discounts, hottest intel, and inside scoops.
As always, thank you for your support throughout 2020. We wouldn't have made it through without you! With the vaccine and our fingers crossed we hope everyone stays healthy and safe, and we wish you a happy new year!