About
Michigan's premier state-of-the- art hot glass studio and gallery. Owned and operated by glass artist April Wagner. Creating one-of-a-kind sculptures and gift items that are contemporary, colorful, and handcrafted.
The emotive colors in our heart paperweights speak to the complexity and depth of our feelings. Our Enchanted Heart is a stunning example of this, with swirling colors of cranberry, iridescent magenta, and brilliant white glass creating a beautiful sculpture full of shimmering complexity.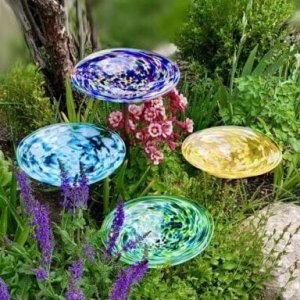 Give the birds that visit your yard a little piece of heaven, with a cool sip of water or a refreshing dip on our luxury hand-blown glass birdbaths.
Choose from a variety of show stealing colors that will make your flowers a little jealous.
A little sparkle and bright pop of color that is sure to put a smile on your face and be the envy of your neighbors, our birds are easily staked in any location at a variety of heights. Embedded with a copper tube that will patina over time, our stunning birds require no feeding and won't fly away.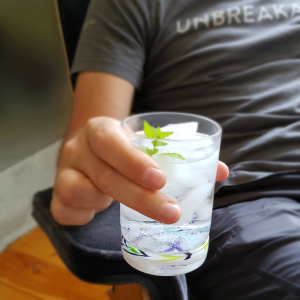 You know there is nothing better than drinking a delicious craft cocktail from a well-crafted rocks glass.
Our unique hand-blown glasses come in a variety of fun colors and feature designs on the bottom to match or contrast your favorite drink.
Hearts For Healthcare
Healthcare providers are on the frontline of this pandemic, saving lives and making the world a safer place for us all. Let's show them how much we care by giving them a little of our heart as thanks. Click here to fill out the form to nominate your favorite hardworking healthcare provider – nurses, caregivers, first responders, doctors and the like to receive a free surprise gift from us. Tell us what makes them so great and we'll share the love by mailing them one of our handmade glass heart paperweights, from our hearts and yours! #heartsforhealthcare
Each Friday we will pick a name at random and ship a handmade heart paperweight to them to share some cheer and say thank you. Let's show our appreciation to these amazing individuals!
If you would like to donate a heart paperweight to #HeartsForHealthcare, you can purchase one here. Thank you for your contribution!

Pontiac location: Open Saturdays
Visit us Saturdays from 10am - 3pm.
770 Orchard Lake Rd
Pontiac MI 248-745-3786
Browse our gallery of stunning, affordable hand-made glass gifts and sculptures. While you're shopping enjoy the rare opportunity to watch our glassblowers form 2000 degree glass into beautiful art.
Subscribe to our newsletter: