Honoring your lost loved ones in a unique and meaningful way is both a cathartic and treasured experience. At our Pontiac, MI studio, our talented glass artists craft custom glass pieces from the cremains of your beloved to create a beautiful, timeless reminder of all the love and memories shared.
From paperweights, marbles, and solid sculpted hearts to colorful dog bones and sleeping kitties, we offer a range of options to capture your cherished memories in a respectful and comforting way. Our experienced glass artists use only a trace of ash, carefully integrating it into the glass with the colors of your choice to create a unique memorial to your loved one.
Experience the comfort of meaningful remembrance for yourself, or give a one-of-a-kind tribute as a gift. We'll guide you through every step of the process–from selection of shape, color, and size to ordering–and are always available to answer any questions or concerns.
Each piece is finished with a heart stamp on the bottom. We can hand engrave the bottom of each piece with a name, dates, or short sentiment (left). A memorial certificate of authenticity is also included with their name, date it was created in our studio and an epiphany studios wax seal (right).
Paperweights and Marbles
These beautiful hot-sculpted solid glass paperweights swirl vibrant colors along with your loved one's ashes. The celestial, striking white trail of ash plays sweetly with the vibrant glass colors amid a cascade of pearl like bubbles. The joyous energy and motion reminding you that the spirit of your loved one will last into eternity. Have one made for yourself or order a collection to share memories over at a family reunion. The small marbles can be carried with you during important events like a wedding or graduation to remember someone important and to feel their presence.
Chose from five different colors swirled with white or two duo color options.
Choose from a variety of beautiful colors in two sizes.
Paperweights: Approximately 2.75″D x 2.75″H
Marbles: Approximately 2″D x 2″H
Colors (left to right): Cranberry, Orange, Green, Blue, Purple, Purple & Cranberry, Blue & Green
Bottom: Blue, Purple & Cranberry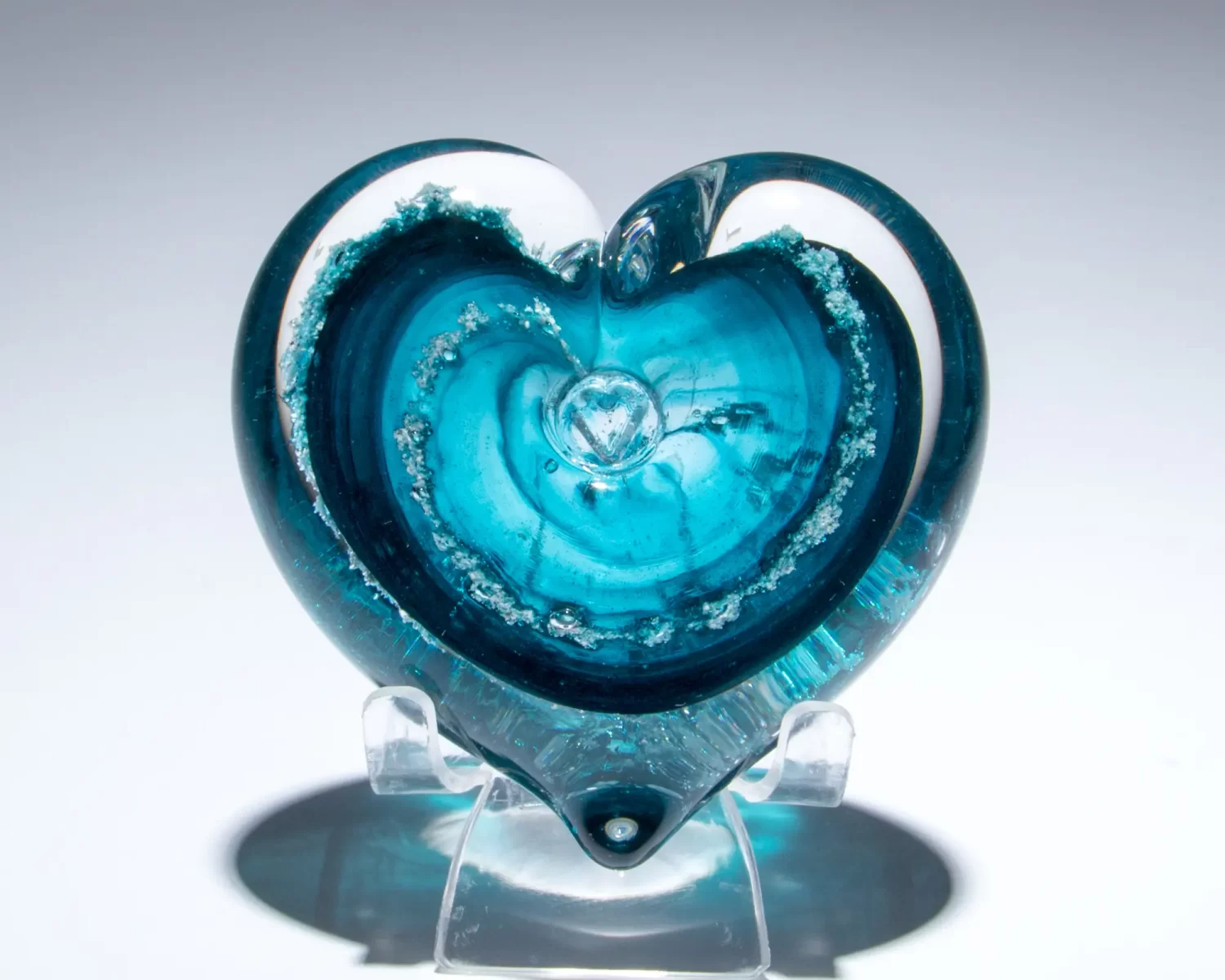 The emotive colors in our heart paperweights speak to the complexity and depth of our feelings. Made of solid hot-sculpted glass, they are a lovely reminder of the love you shared with a beloved friend, relative, spouse or pet.
Pick from one of five colors that reflects your feelings and memories. Ashes are swirled through the glass to create a beautiful design.
These are wonderful mementos that you can display at special events such as weddings or holidays to honor those who can't be with you physically.
Heart Paperweights are approximately 4″L x 4″W x 1″H.
Colors: Cranberry, Aqua, Purple, Red and Blue.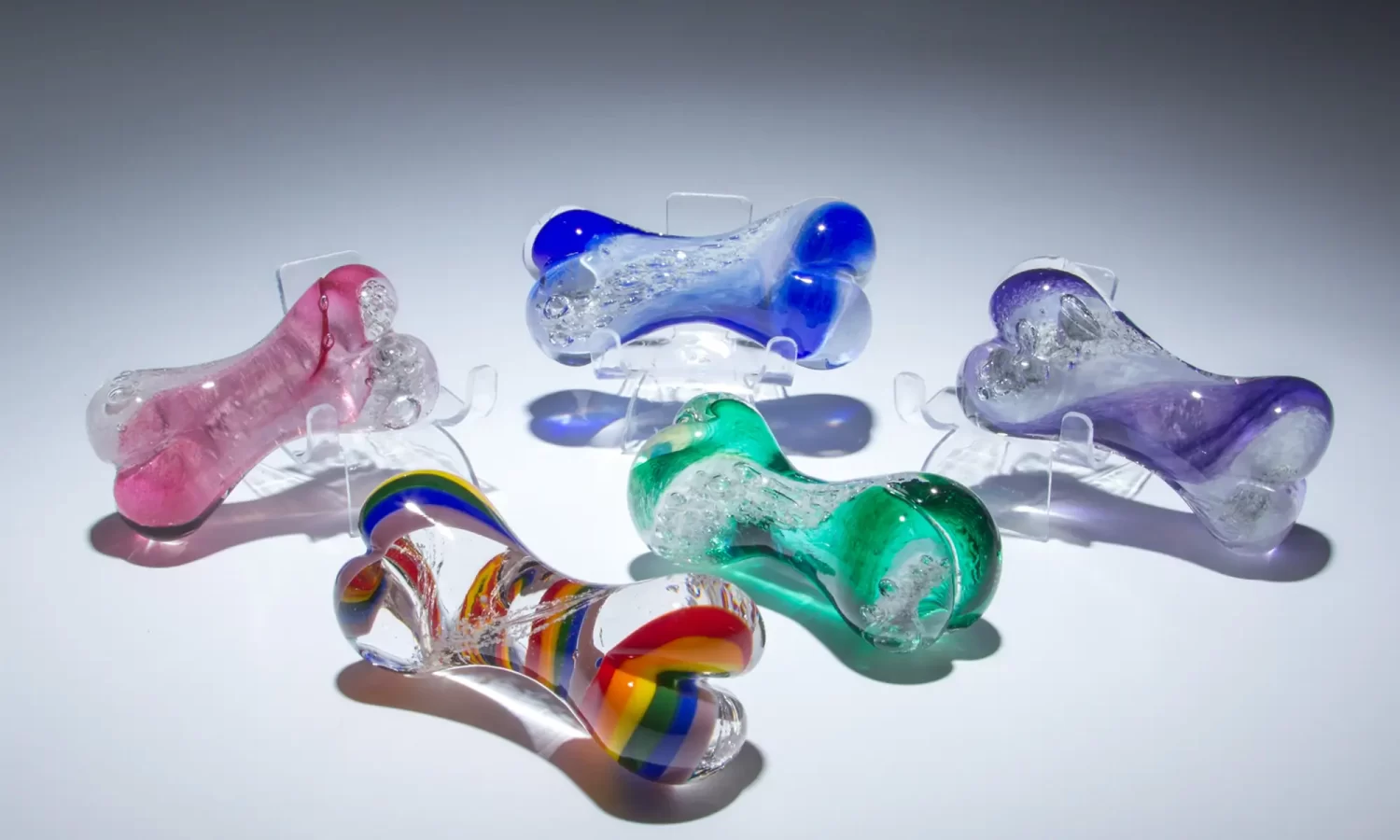 Dog Bones
The loss of a beloved pet can be so difficult. Remember your faithful canine companion and the time you spent together with a beautiful handblown glass dog bone. 
Available in four different colors combined with white glass or our newest addition, the Rainbow Rainbone, each thoughtfully swirled with ashes.
Dog Bones are approximately 3″L x 1.5″W x 1.25″H.
Colors: Cranberry, Violet, Green, Cobalt and Rainbow Swirl
Remember the days of your kitten sleeping in a sunny spot or on your lap. Send us a picture of your favorite feline along with a teaspoon of their ashes and we will make a sleeping kitty modeled after them. Ashes are swirled into the color to create a unique design. 
The kitty shown to the right was one of our studio cats, Ronnie. When he passed we created these precious memorial kitties after him and gave one to each of the studio employees.
Sleeping Kitties are approximately 3″D x 1.5″H. 
1. Select the memorial glass, style and color you would like and place your order in the webstore.
2. At checkout if you would like the glass items to be engraved with your loved one's name and dates of birth and passing please include them in the Order Notes at the bottom of the checkout page. This information will be included on the memorial certificate as well.
3. Once your payment is processed you will receive a confirmation email from the webstore and from PayPal (even if you use your credit card, it is processed by PayPal). If you do not receive a confirmation email, please check your spam folder. 
4. Send 1 teaspoon of ashes per item (if you're having 3 paperweights and 2 marbles made, please send 5 teaspoons) to our studio:
770 Orchard Lake Road, Pontiac, MI 48341
You can send them in a plastic baggie or empty pill bottle placed in an envelope, bubble mailer or small box. If you'd prefer, USPS makes packaging specifically for cremains that you can find here. Please note, that it costs quite a lot more to ship them this way and it is not necessary.
5. If you are ordering a Sleeping Kitty, send a few pictures of your cat to [email protected].
6. We will email you to let you know your order has been received and again when the ashes arrive.
7. Orders will take 6-8 weeks from the day we receive the ashes.
8. We will ship your completed memorial art to you free of charge (if you're located in the U.S.) with the unused cremains and a certificate. When they ship out we'll contact you with a tracking number.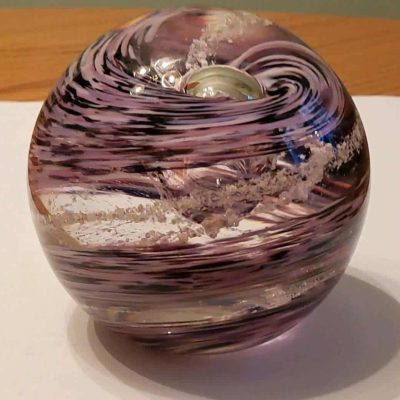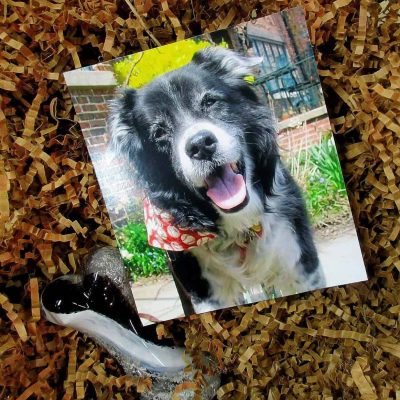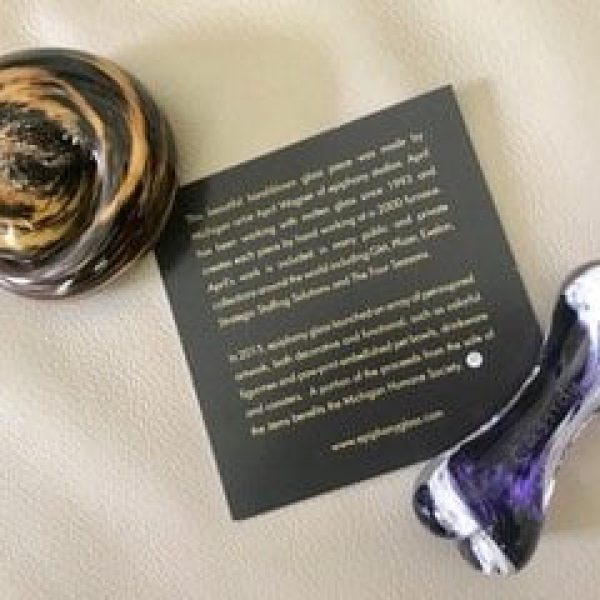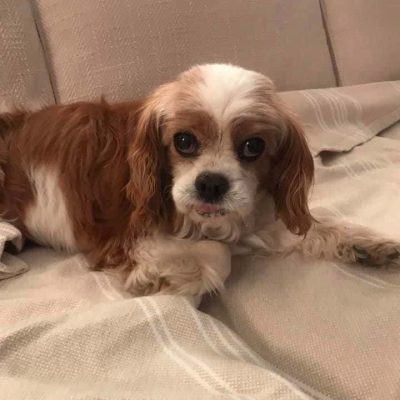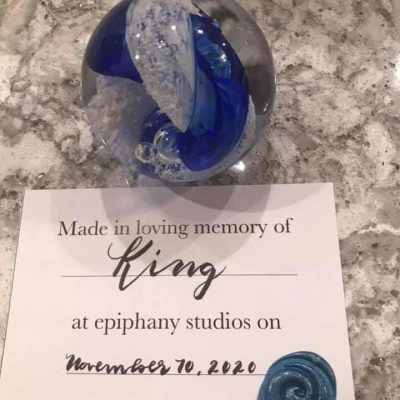 ● ● ●

"Thank you to epiphany glass for making my hearts with my husbands ashes in them. I checked all around and found this place. They were the best people to talk to and they did a beautiful job on all my hearts I had made. I had 3 different ones made for me, my Daughter, and my Granddaughter. They all turned out beautiful. We love them and the little extra touches that they did was over the top. Thank you all very much !! I will be getting some more hearts made from you." – E.H.
● ● ●
"I received the cat today and it's looks great! You got the rounded ears and added the white belly… my wife / kids will love it!! " – J.D.
● ● ●

"We received the beautiful sculpture today. It is so, so lovely. My husband raised Grover from a day-old kitten and losing him has been really hard. My husband was very touched by the sculpture and it is a beautiful tribute to our friend. Please give our sincere thanks to the artist." – L.M.