epiphany studios
770 Orchard Lake Road
Pontiac, MI 48341
248-745-3786
Email us using form below.
Click here to take a virtual tour of the studio!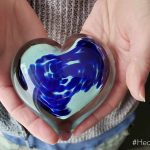 Purchase a glass heart paperweight for a special healthcare worker to show your appreciation. #HeartsForHealthcare.
Frequently Asked Questions
Do you offer workshops/classes?

Can children take your workshops?

Do you make memorial items with ashes from a loved one?

Where can I take longterm/advanced classes?

Will you repair my broken glass/make a replacement piece?

Do you make jewelry/pendants/beads/dip pens/pipes/bongs?

I would like to order (heart paperweights/cardinals/etc.).

Do you ship internationally?
To be notified of future workshops, and to get early access to register please sign up for our newsletter.
Still have questions? Send us an email!