Pre-registered guests will have the opportunity to create their own glass ornament with epiphany glass artists during the Holiday Show. This unique glassblowing experience also makes a great gift for the holidays. Try your hand at making our popular Icicle Ornaments on December 2nd & 3rd or our new DIY Glass Snowman on Dec 4th.
Reservations are required in advance, and guests are welcome to attend. Glassblowing sessions may be scheduled by visiting our workshop page at epiphanyglass.com or if you have questions you may call epiphany glass at (248) 745-3786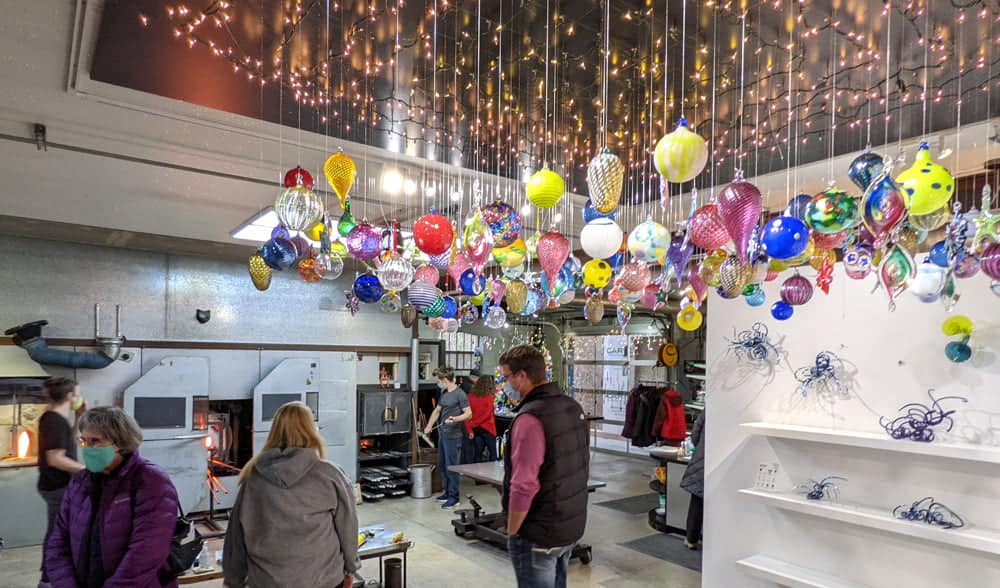 Every year, epiphany studios in its partnership with Michigan Humane, offers a festive line of animal themed glass art with a portion of proceeds benefitting MH. The pet-themed items range from $55 – $690 and include sleeping kitties, colorful dog bones, and our lovely Birds of Beauty. The Michigan Humane is the largest and most historic animal welfare organization in the state. MH works to end companion animal homelessness, provide the highest quality service and compassion to the animals entrusted to its care, and to be a leader in promoting humane values.
Need help picking out the perfect present for someone special? Our e-gift cards make wonderful gifts that can be used in the studio or online! They can be used towards purchasing any of our beautiful art glass or for our popular hands-on workshops. our epiphany glass e-gift-cards can be emailed directly to a friend, family member or loved one. No expiration date and card holders have the ability to check their epiphany glass gift card balance.
Shop gallery exclusive art glass or our most popular epiphany glass items online at www.epiphanyglassstore.com.  You can also order by phone, or appointment and we accept cash, check or credit card. If you want to be the first to know about special events, new releases and have first pick of available times at upcoming workshops, sign up for our newsletter!  You can also follow us on Facebook, Instagram for daily updates and events, and Pinterest and YouTube for awesome up-close videos of our glass blowing processes.
Add us to your list of fun things to do in Michigan. It is the perfect time to visit and shop the epiphany glass gallery for unique gift items, including elegant mouth-blown ornaments, colorful signature paperweights and desk accessories, gorgeous pumpkins of all shapes and sizes, and a variety of beautiful handmade gifts along with collectible art pieces by glass artist and owner April Wagner.
Visit our Pontiac Michigan Gallery at 770 Orchard Lake Road in Pontiac Michigan, 48341. With the recent completion of our new addition, epiphany studios, is a 6,600 sq. ft. state-of-the-art, glassblowing studio and gallery. 
DIRECTIONS – We are located at 770 Orchard Lake Rd. in Pontiac, 1/4 mile east of the intersection of Telegraph/Old Telegraph and Orchard Lake Rd, at the corner of Orchard Lake and Sylvan Ct. The studio entrance is in the rear.
PARKING – This is one of our busiest events and our small parking lot accommodates five cars in addition to one handicapped space next to our entrance. We suggest parking on one side of the street or in the additional parking available at the lot by the Blue Building on the south side of Orchard Lake Road.
Since 1997, epiphany's distinctive look has been created by artist and owner April Wagner. Wagner adds a contemporary twist to the traditional fazzoletto technique, which originated in the Venini factory of Murano, Italy, during the 1930s and was later popularized by Seattle glass artists. Her work is found in many public and private collections, including those of GM, Pfizer, Strategic Staffing Solutions, Goldie Hawn and Kate Hudson. epiphany studios is the only hot glass studio to receive WBENC certification.For more details Contact [email protected] (248)745-378
Help us find more glass lovers all over the world…if you liked this post, we hope you'll share it with your friends!
THANK YOU, we appreciate your support!