It is almost June! In Michigan, we've had beautiful sunny days and hot weather which makes working in the hot shop even hotter, but we still love making our work! In spite of all the upheaval of late we still have things to celebrate – students have graduated and Father's Day is just a week away. We wanted to share with you some gift ideas at all price points so you can find a gorgeous artwork just right for you budget. Our list will inspire you to find the truly perfect gift for your Dads and Grads.
Father's Day only comes around once a year, so make this one count! If your dad already has a collection of glass art, why not give him a new one-of-a-kind sculpture by April? We currently have two series available in our webstore. Last year April worked on a small series of sculptures she calls, 'The Mechanics'. We added a few of these and some iterations of this series. Find the Curls sculptures here.
April's 'Epicycles' series was created at the beginning of quarantine. These pieces look like modern art paintings made three-dimensional. Using pulled glass parts she builds these complex yet simple freestanding and wall sculptures. We think any one of these would make a stunning addition to a study or as a tabletop sculpture. Read more about the inspiration behind these pieces in this blog post. Find the entire Epicycles collection here.
The piece shown here is our Cool Sea Green Free Form. Free Forms are gorgeous pieces of functional art that highlight the motion and fluidity of glass. Stunning in both traditional and contemporary environments, they're sure to add a unique element to any space. Find them all here.
P.S. Find the perfect sculpture but don't have the funds right now? We completely understand! Use PayPal Credit at checkout to set up a payment plan and pay it off in installments. You'll get your art now and can pay later.
Looking for something both beautiful and functional? Here are some great options for you!
Our classic paperweights come in a variety of styles. Perfect for an at-home office to keep important papers safe. The one shown here is called Leopold Lily. Available in other colors and round and flat shapes, you can find them all here. (If you're looking for something a bit fancier, check out our Vedic Paperweights below!)
If your dad enjoys drinking a cocktail in the evening, take it to the next level with one of our handmade rocks glasses. We have them in every color of the rainbow and even a few special designs like shamrocks and music notes. Find them all here.
Our wine decanters are just what the wine-loving dad needs! Shown here is our Krackle Decanter, which features a gorgeous organic texture. This would make the perfect addition to a wine or glassware collection. Find all of our decanters and glassware here.
Although we think any of our gifts above would be great for graduates (depending on their age – we don't think a high school graduate needs a wine decanter!), we wanted to offer some other ideas as well. You'll probably find some of these options would be great for dads too!
These first few gifts would be great for older grads who might have a glass collection or are starting one. 
To the left is one of our gorgeous Vedic Paperweights. Made with shimmering, sparkly dichroic glass these celestial paperweights showcase the power of glass as it transforms light into beauty with a soulful, spiritual presence. Any of these paperweights would serve as a great reminder of the future ahead of them! Find them here.
If you're thinking of buying a graduate a congratulatory flower bouquet, maybe consider a flower sculpture! They last forever, never wilt and don't need to be watered. Flowers are also a symbol of growth and beauty; a positive outlook for the future for any graduate.
These gorgeous sculptures come in a variety of colors and each one is completely one-of-a-kind. Find the full collection here. 
A classic epiphany piece, we have been making the nest series for over 20 years. A beautiful decorative sculpture, the unusual combination of blown glass and solid sculpted glass make its design unique and fresh. Available in a variety of colors. You're sure to find one that suits your style and will look amazing wherever they're displayed. We think these would make an amazing gift for a graduate that might be moving into their first home in the near future. Find them all here.
Here are some other thoughtful gift ideas appropriate for graduates of all ages. Each of these pieces are small, functional and come at a lower price point. But they're still beautiful and high quality art glass!
Our vibrant sun catchers are the prettiest things you've ever seen! Bright colors and vivid patterning remind us of lazy summer days and flower filled fields of color. 
One of our best sellers – remind a grad how much you love them with one of our many styles of heart paperweights. 
Keep a pen or stylus at the ready in one of our pen holders. Perfect for grads going on to college or moving on to their first major job! Browse them all here.
Never fear losing precious rings again! Our ring holders can adorn a nightstand or be placed next to the kitchen sink. Available in a variety of styles; find the right colors to match any space and personality. Find them all here.
For the pet lovers in your life – we have adorable sleeping kitties and beautiful blue dog bones! These make awesome gifts because a portion of the proceeds from their sales goes to benefit the Michigan Humane Society. 
Trying to find something for someone who is difficult to shop for? You can always get them a gift card! Our e-gift cards can be used both online and in the studio. Your recipient can use the gift cards on beautiful art glass or towards a hands-on workshop (though we won't be having any until the fall!). With each purchase of a gift card, you'll also get a coupon to use at a later date.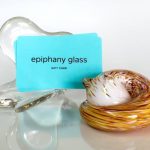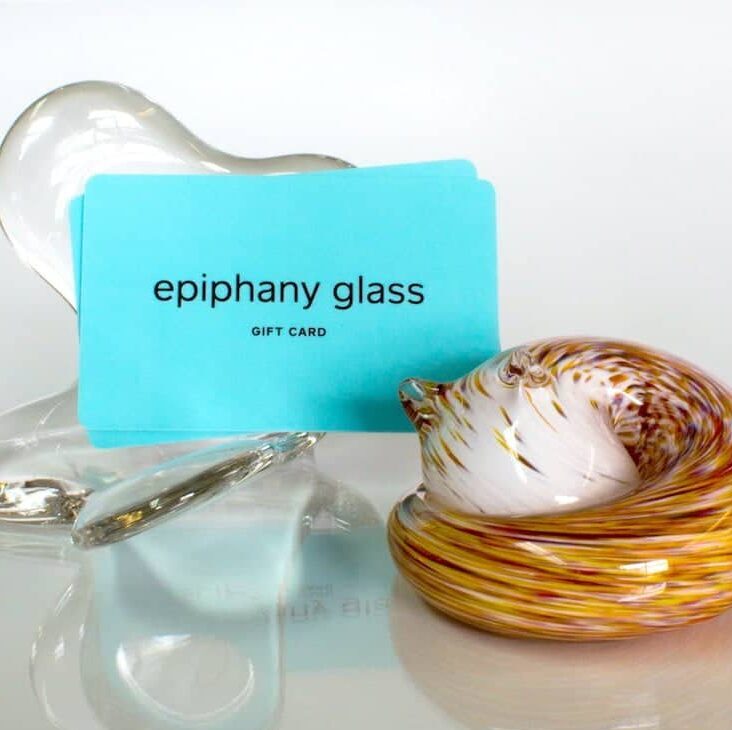 All of the art mentioned in this post can be found in our webstore and we are still offering free shipping on all US orders – no code needed! If you'd rather stop in the studio, we're open for shopping Saturdays from 10am – 3pm. You can also call us at 248-745-3786 about coming in Monday – Friday from 10am – 3pm. Lastly you can also order curbside pickup here. We're here for you to help you find the perfect gift!
Find the full lists of gifts for dads here and for grads here. Keep up to date with us on Facebook, Instagram or sign up for our weekly newsletter!