The holidays are here and we know how stressful things can get – especially with everything going on this year. We can't have a big celebration like we usually do, all together in the studio, munching on snacks and blowing glass together, but we can make life easier for you by offering safe, convenient and thoughtful shopping options. 
Below we explore the many ways we can make your holiday less stressful and full of beauty.  All you need to do is see which shopping solution works best for your needs, choose which pretty gems you want sent to your loved ones, and let us care of the rest.  2020 has been hard enough. We can make your holiday shopping easy and fun!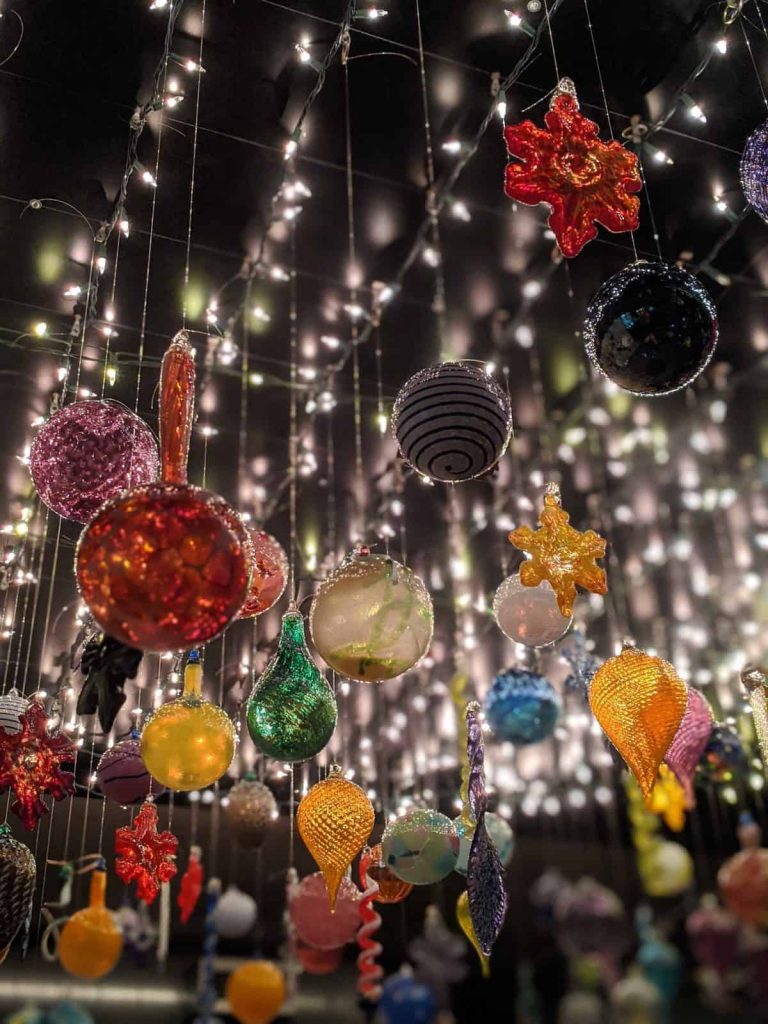 We'll still be holding our annual Holiday Show – 2020 style! This year we are extending our holiday show over TWO weekends since capacity will be limited.
We'll have a very special discount available only during the show dates, for use either in studio or virtual shopping appointments. 
Covid guidelines will be enforced to keep everyone safe. There will be heating stations outside for you to keep you warm while you wait for your turn in the studio. We'll be offering individually wrapped holiday treats and drinks for you to enjoy before starting your shopping journey.
We're sad that we won't be having our hands-on workshops, but our glass artists will be in the studio working, so you can catch some live glassblowing action!
This is the perfect time to jumpstart your holiday shopping, purchase unique and beautiful gifts that will dazzle the recipient and support a small local business.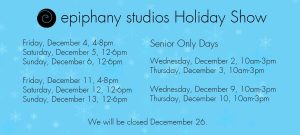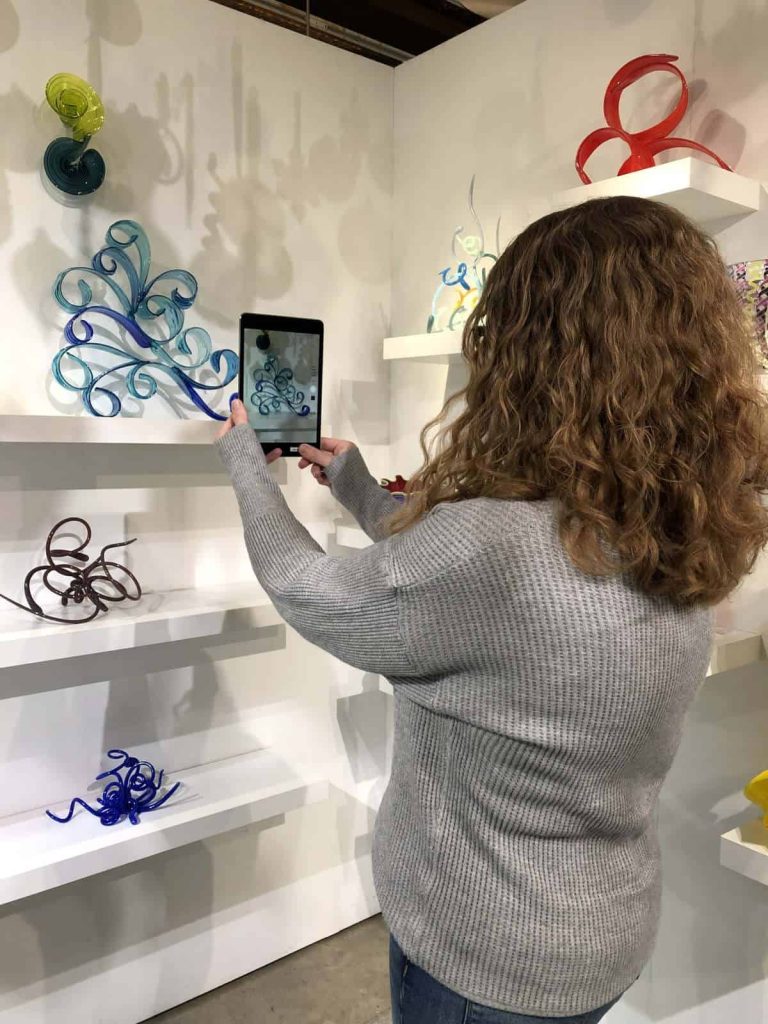 Shop with epiphany studios safely from home!
Simply fill out a form to let us know what you're looking for.
Once we get your virtual shopping request, we'll email you to set up an appointment over FaceTime or Zoom. Based off your form, we'll hand pick gorgeous glass art and gifts from our studio for you to choose from!
During your appointment you'll get to see a variety of artwork not available in the webstore and from different angles, rather than just a static image. We can also answer any questions for you in realtime and make suggestions.
Once you've picked out the glass art you'd love to own or send to a loved one, we'll email you an invoice. You can let us know if you'd like to come to the studio for curbside pickup, shipped FREE to you. or directly to each of your recipients, gift wrapped with a ribbon and  gift note. 
Looking for gifts for all your friends, family, employees or team members? Let us do the busy work so you can relax at the holidays. Send us the addresses and we will take care of everything else! Choose from our selection of gifts – heart paperweights, round paperweights, Birds of Beauty, ring holders, ornaments and more.
We'll pick a special piece for each recipient, gift box them and include a handwritten card letting them know how much you care about them! Ships in time for the holidays, shipping included (US only). And we'll send you the tracking number so you know it shipped and can await their delighted thank you for the thoughtful and unique gift!
This is the perfect way to take care of gifts for a large group of people, support local artists and to give unique handmade pieces. 
Click below to contact us for more information and  to place your order.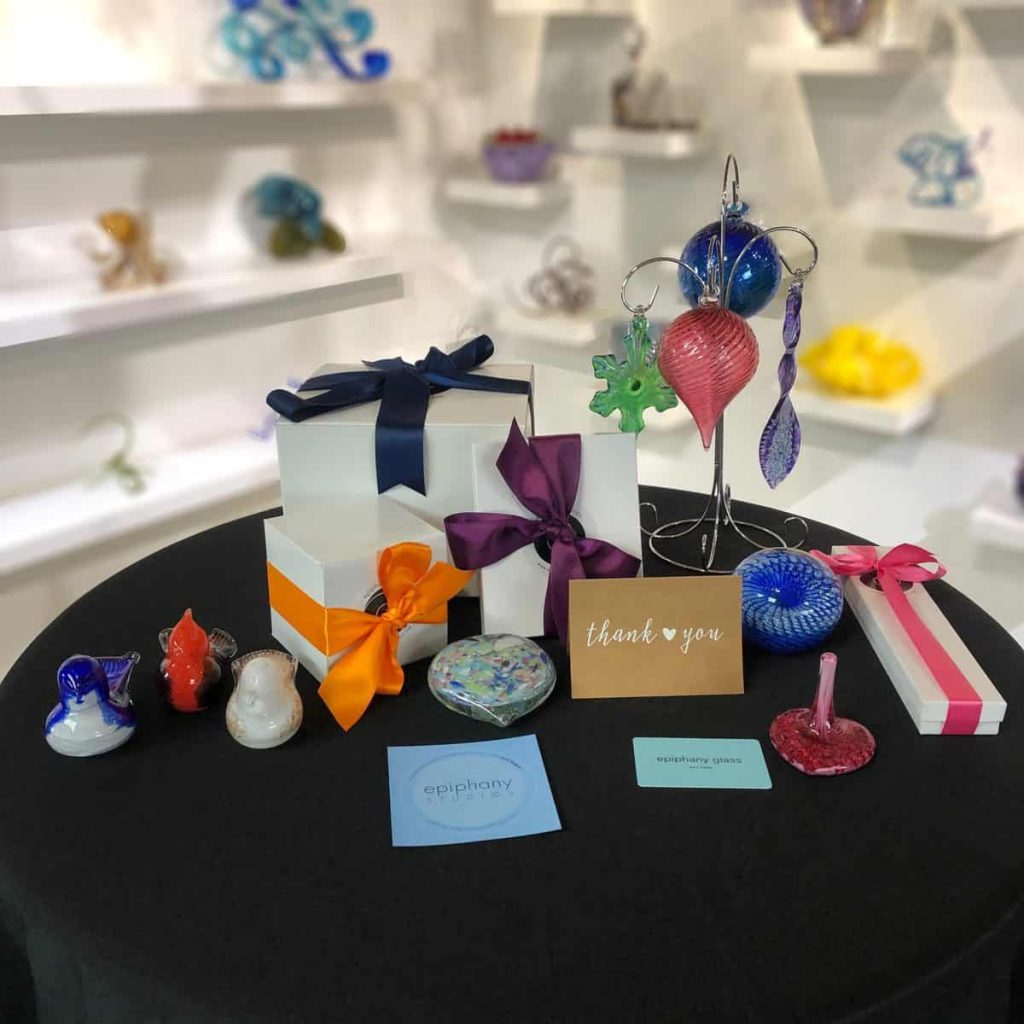 Not sure what the perfect gift would be? Gift cards are a great option that let the recipient pick out exactly what they want. Our gift cards never expire, so they have plenty of time to wait to pick out the perfect piece of glass art for themselves!
Our e-gift cards can be used  in our webstore and in the studio. Physical gift cards are also available but can only be used in the studio or over the phone. Click below to purchase a few! E-gift cards can be sent directly to your loved one, making them a great last minute gift as well.
Follow Us on Social Media & Sign Up for Our Newsletter
You'll definitely want to sign up for our weekly newsletter! It's free and we've been sending exclusive content ONLY to or subscribers. What does this mean? Pictures and videos that aren't going on social media, early access to new art, and exclusive coupons! Everything new and exciting goes to our newsletter subscribers first and then we roll it out to everyone else. Sign up for our newsletter so you can get early access and exclusive content too! Just click here.
We also post a lot of fun content daily on social media. Watch glassblowing processes on Instagram. Get weekly updates from our Facebook Lives. See pictures of what we're working on in the studio and of our adorable studio cats! We're going to be doing Live shopping sessions and posting gift guides in the near future, so you'll definitely want to check out our social media channels!
We're here for you during the holidays, and want to make your holiday shopping fun and stress-free so don't hesitate to reach out to let us know what we can do for you! Hope everyone has a safe and healthy holiday season.