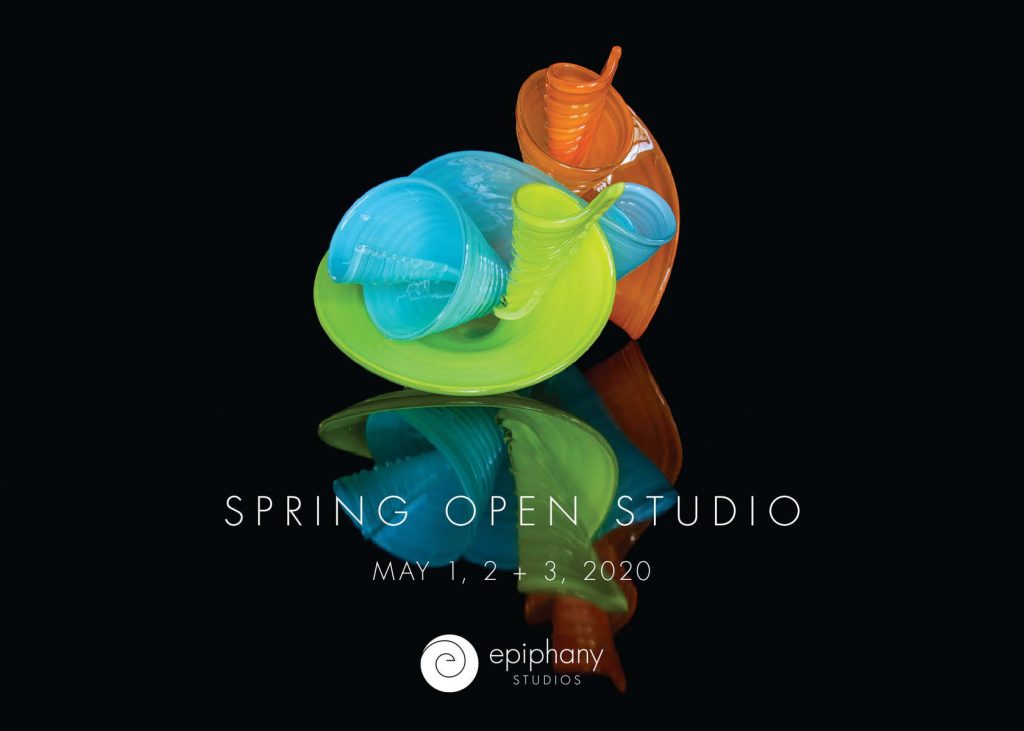 Each year during the first weekend of May, we look forward to hosting our annual Spring Open Studio.  We open the doors of our creative space to the community and share the art we are so passionate about. Unfortunately, due to the stay-at-home order our 2020 Spring Open Studio is cancelled. We're super disappointed that we can't have you all visit us right now but we wanted to give a glimpse of what could have been. Spring Open Studio is one of only two opens studio events we hold each year, so not being open will really impact us. In this post we will also share ways that you can support our small business so we can all get through this together stronger.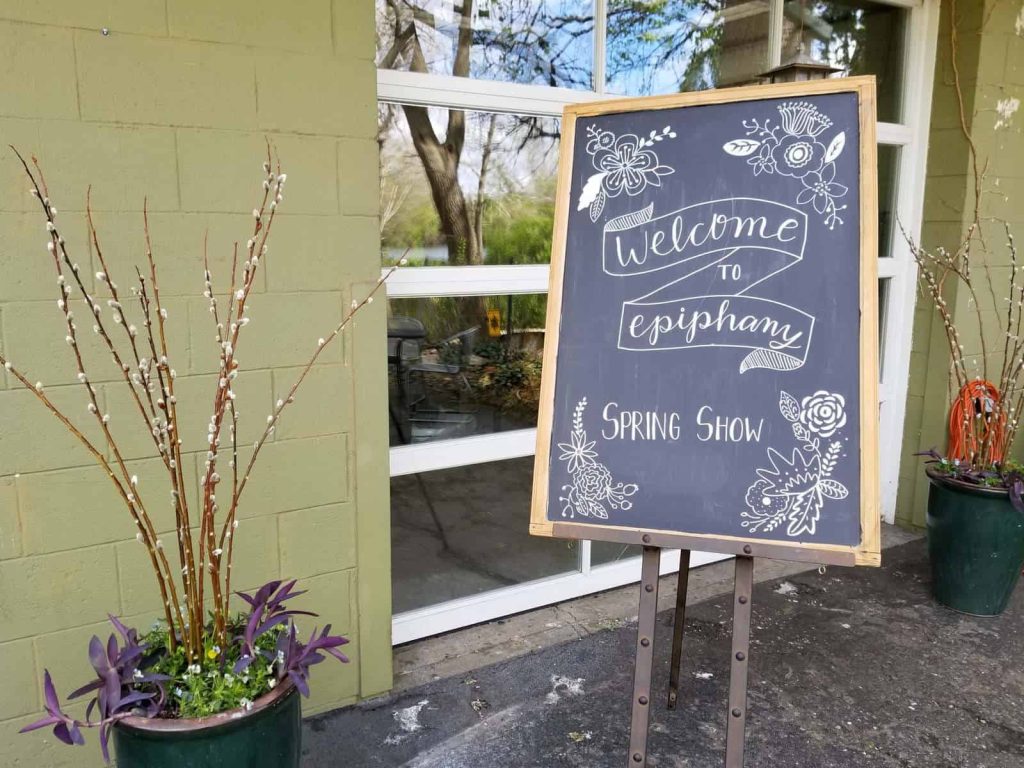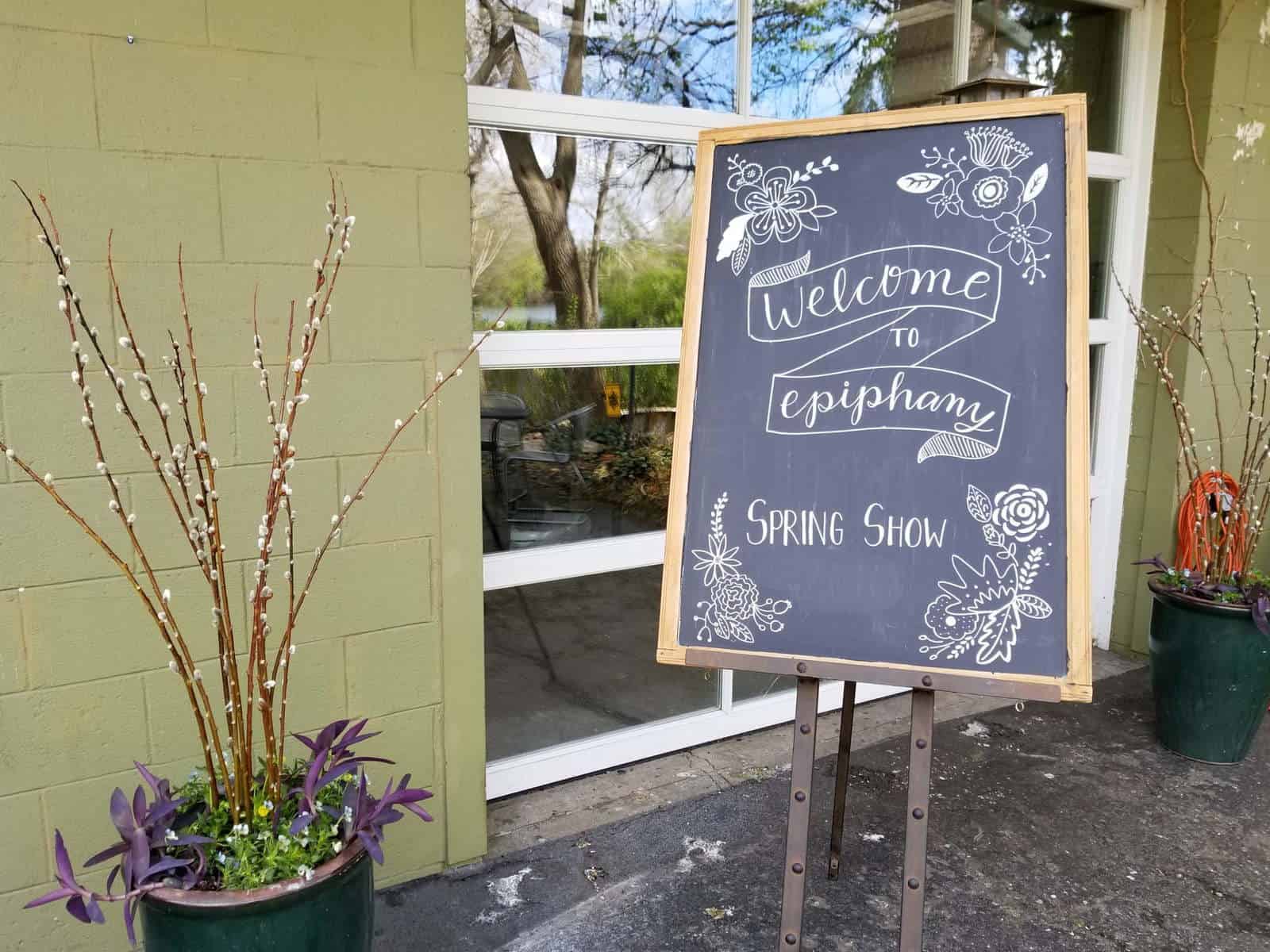 Springtime is the time for new beginnings so we love to open up our studio to show the world the creativity the long, cold winter sparked in us. It's not hard to live in Michigan during the winter when we can spend the gray chilly days basking in the glow of the 2000 degree furnace. Sometimes we even wear shorts! 
As a private studio we are usually busy working on things not ready for the public eye.  For our open studio we really like to pull out all the stops and showcase our newest work. It's our chance to really shine and invite our community to be a part of it. We open the doors for three days of shopping, glassblowing workshops, food & beverages and visiting with friends we haven't seen since the holidays. 
This year it's really tough to not be open. We MISS everyone! But we know staying healthy and safe is the most important thing right now.  We're all looking forward to the day when we can open up the studio to you all!
Each year, we partner with our favorite animal organization, the Michigan Humane Society. We have a variety of pet-themed artwork that are both fun and functional and a portion of the proceeds from these products will benefit MHS in their mission to serve the tens of thousands of animals in their care each year. You know we're animal lovers, so partnering with MHS is really important to us. Their volunteers usually help us during the show, and we have met some amazing ones who have become part of our team. 
Like our Spring Open Studio, MHS's annual Bow Wow Brunch fundraiser was cancelled this year.  To help them out during this time, you can donate directly to them or participate in Your Purrfect Pet Auction through May 2nd.
And you can always purchase our pet items including sleeping kitties and dog bones, available in the webstore. We also have limited quantities of pet bowls, Paw Print Pint Glasses and more available in the studio that you can call us about for more information. This is a wonderful way to support both MHS and epiphany studios!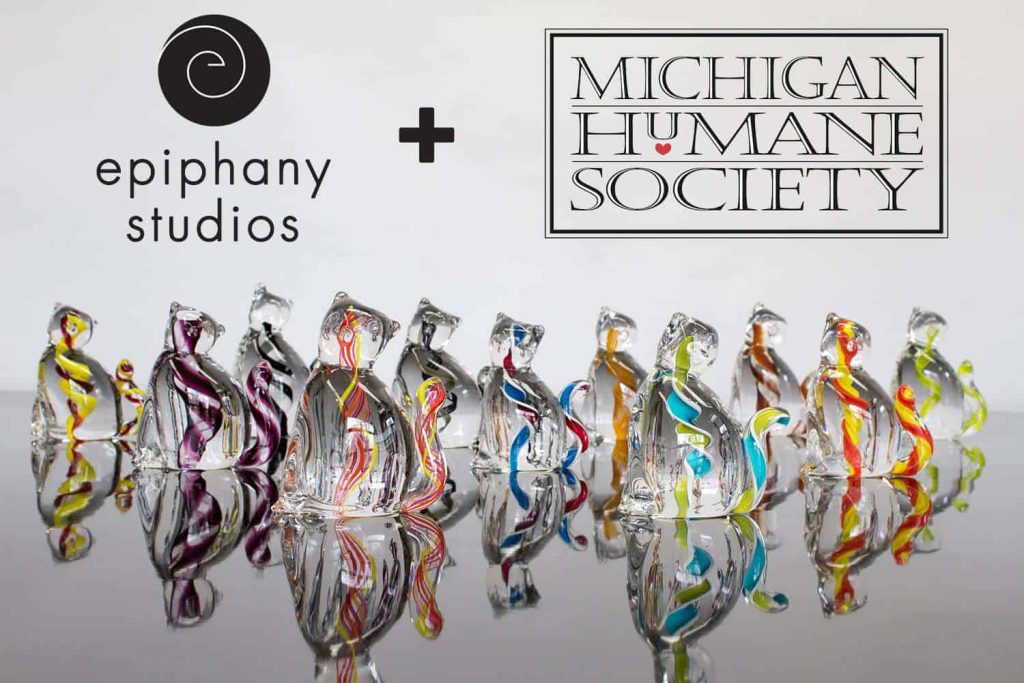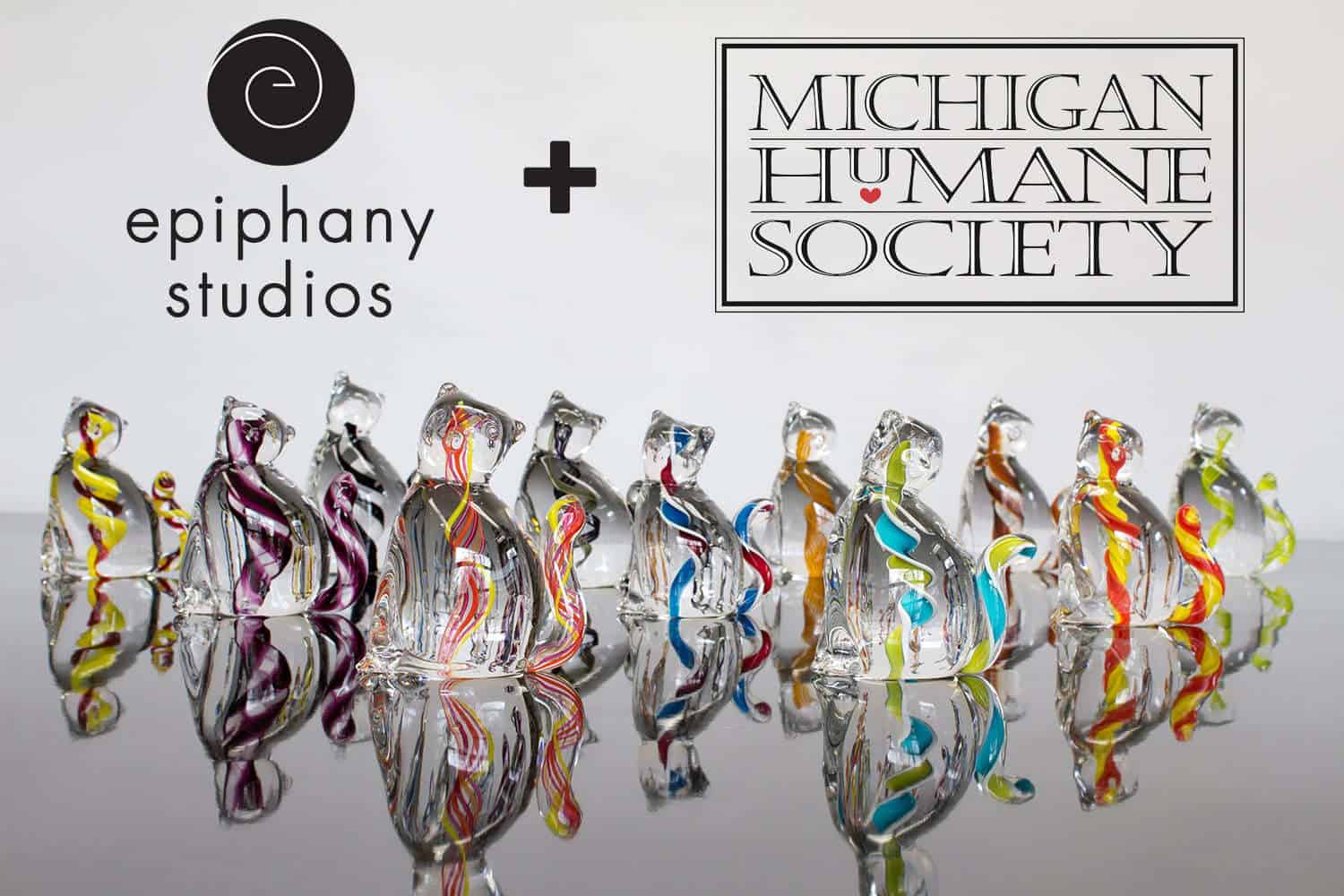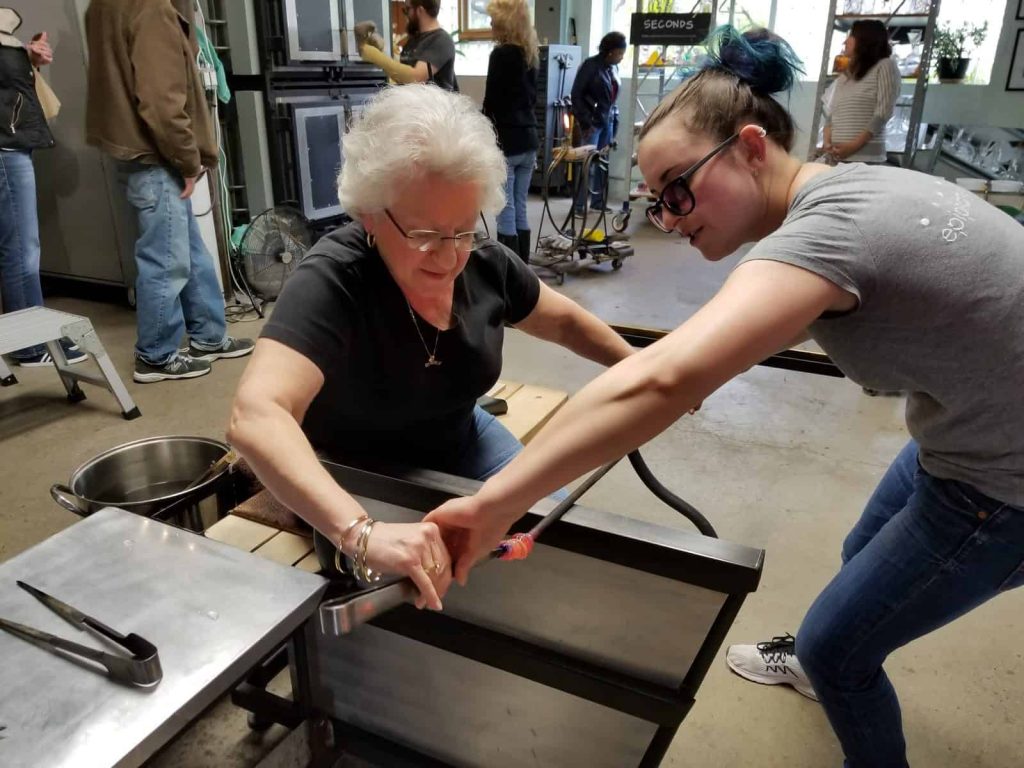 One of the most popular parts of our open studios are our hands-on workshops. Our glassblowing workshops give participants the opportunity to work with professional studio artists to choose color, and use tools to create a masterpiece in front of the 2000-degree studio furnaces. This is a unique experience you that people of all ages enjoy. You're left with a beautiful handmade piece that you can keep for yourself or give to a loved one. And of course, you earn bragging rights for trying out glassblowing!
We get a lot of people signing up to make more projects after they tried it out once. We love having the chance to introduce you to glassblowing in a hands-on format. There's really nothing like it.
This year we were really excited to offer three projects – an animal menagerie. People signed up to make adorable birds, cats and starfish. We're really disappointed to have put these on hold but we are planning to reschedule them ASAP! Find more information about our workshops on our Workshops page.
So, how can you support us?
The good news is, there are so many ways you can help us out right now. We are working on setting up curbside pickup in the next week or so, but right now you can shop in our webstore. Here's a few ideas for you! 
Mother's Day is right around the corner and we have a variety of beautiful gifts that would be perfect for the special women in your life. Ranging from flower sculptures, to ring holders, we have pieces available at all price points. Click here to view our curated list.
Now that we're all working from home, you might want to add some special artwork to your home office. We just added a ton of beautiful pen holders. The prefect way to keep your pen or stylus safe- functional and pretty! Find them here. 
While we're inside, why not treat yourself to something that will be beautiful forever? Our Vedic Paperweights feature gorgeous sparkly dichroic glass. They look completely different from every angle. Each one is totally one-of-a-kind and will add something special wherever they're displayed. See them all here. (P.S. We also just added some of our most popular signature paperweights too!)
April just released her new sculpture series called, 'Epicycles', a few weeks ago. These incredible sculptures look like modern art paintings made three-dimensional. These are pieces that are sure to make a statement. Find them all here.
Not sure what the prefect gift would be but still want to gift gorgeous art glass? We have e-gift cards that can be emailed directly to the recipient. Use them online or in the studio (when we're open again)! They can be used to purchase art or towards our hands-on experiences. Simple and versatile but still thoughtful! Find them here. 
As you know, we've been running the #HeartsForHealthcare campaign. Once a week we send a randomly selected healthcare worker a heart paperweight. Currently, we are only able to send out one heart per week. But we've had some generous patrons the last few weeks donate a heart to be sent out. 
If you'd like to donate a heart paperweight, you can do so here. This is a wonderful way to not only support the healthcare providers on the frontlines but our small business as well.
We know people are going through difficult times right now. If you're unable to buy art from us right now, you can still help by following us on social media. We post daily on Facebook and Instagram. Liking, commenting and sharing our posts goes a long way. You can also sign up for our free newsletter (sometimes we include exclusive coupons!). Without your support, epiphany wouldn't be where it is today.
Thanks for sticking with us and we hope to see you in the studio soon! Stay healthy and safe.