Registration is open for our Hands-on Glass Making Workshops for Memorial Hearts. Try your hand at creating your own beautiful art from 2000+ degree molten glass with the ashes of a dearly departed loved one or beloved pet.  We only offer this special workshop twice a year. Perfect Family Experience!
BONUS $10 e-Gift Card with each $100 e-Gift Card purchase. Our e-gift cards make wonderful gifts that can be used in the studio or online! Use to purchase beautiful art glass or our popular hands-on workshops. Cards can be emailed directly to a friend, family member or loved one. You can check your balance and there is no expiration date.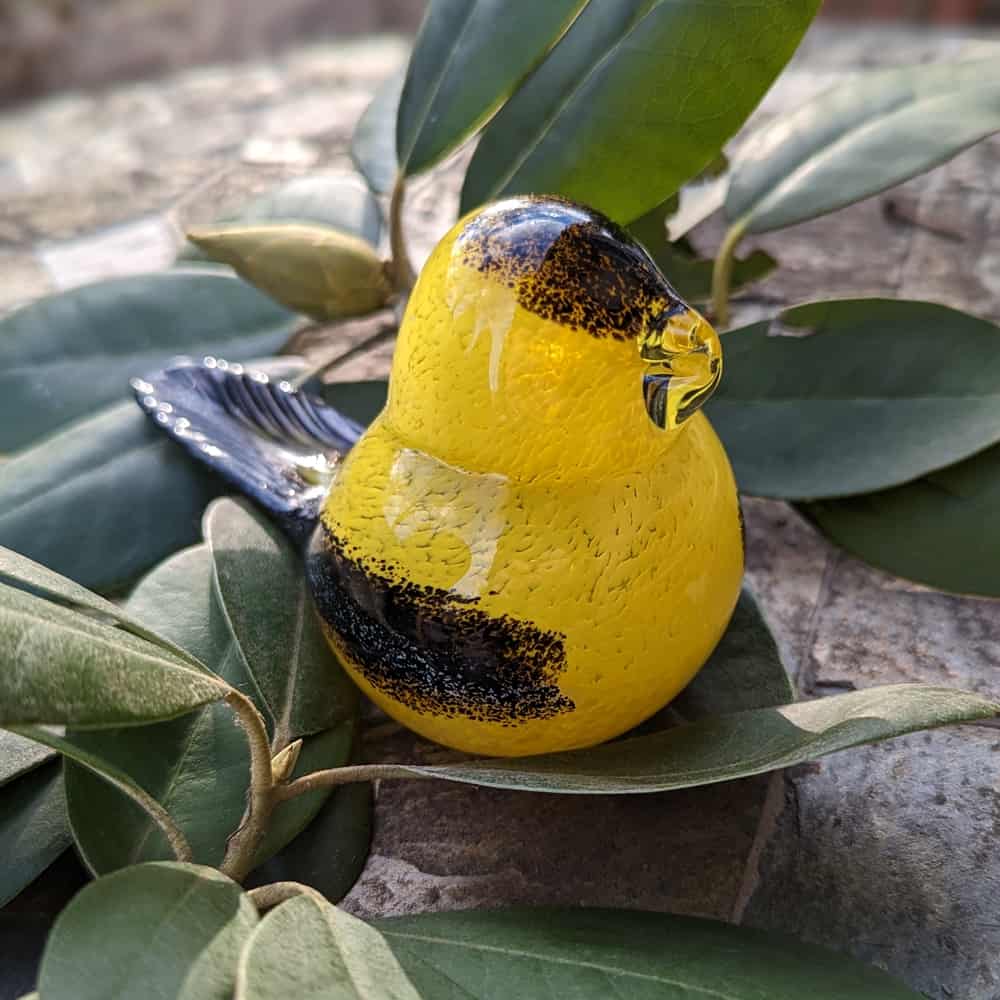 With its vibrant yellow coloring, The Dreamy Goldfinch embodies optimism and energy. Full of activity, these birds inspire us to dream big and to follow our dreams with our whole heart, never giving up no matter how hard the journey. These birds remind us to reach for the sky and all our dreams will come true. Shop Birds Of Beauty
Our Rainbow Dream heart paperweight will dazzle you with effervescence hues of swirling colors and sparkles. Taking you to another realm, these beautiful hearts remind us that life isn't a straight line, but rather a special journey of discovery and possibility.
We love your amazing reviews...thanks for sharing!
"We did the Glass Icicle workshop as our family Christmas experience. It was so fun! Eric and Chris were our instructors and they were incredibly kind, fun, and helpful! It was a blast choosing our colors and shaping the molten glass. I would definitely recommend their glass workshops!"
"There are not enough good things I can say about Epiphany. I ordered a wine stopper from them for my in laws' Christmas gift. I was worried about it arriving in time since I live in New Jersey, so I contacted them via their website, and within a couple hours someone CALLED me to assure me it would arrive before Christmas. It arrived, and it is absolutely beautiful. Not only that, but they sent a handwritten note thanking me for my purchase. I will 100% order from them in future, their products are gorgeous, amazing quality, priced reasonably, and make for the perfect gift. Thank you to everyone at the Epiphany studio!"
"The glass pieces they have for sale are absolutely beautiful! The workshops they offer are fairly priced and so enjoyable to do. And the glass workers are so knowledgeable and helpful as well as courteous and fun to be around."
"Went with a group and we made pulled glass flowers for a Birthday celebration was alot of fun, very basic and easy process definitely suited for beginners with no experience working with glass. Staff was fun friendly and very helpful, we will probably be back soon for other projects."
"I grew up in the area and remember when the now studio was a TV repair shop. I walk my dog across the mill pond and have been wanting to visit ephipany studios for a while. Wow, what an awesome place to visit and shop! The staff member there gave a great tour and explained all the details in the studio. April Wagner is an incredible talent and I'm so glad she chose Pontiac to set up shop! You need to visit and see the spectrum of April's creations in this unique medium first hand. Love it!"
"Thank you to epiphany glass for making my hearts with my husbands ashes in them. I checked all around and found this place. They were the best people to talk to and they did a beautiful job on all my hearts I had made. I had 3 different ones made for me, my Daughter, and my Granddaughter. They all turned out beautiful. We love them and the little extra touches that they did was over the top. Thank you all very much !! I will be getting some more hearts made from you."
Visit us Thursdays and Saturdays from 10am - 3pm.
770 Orchard Lake Rd
Pontiac MI 248-745-3786
Browse our gallery of stunning, affordable hand-made glass gifts and sculptures. While you're shopping enjoy the rare opportunity to watch our glassblowers form 2000 degree glass into beautiful art.