Glassblowing is a fascinating and mysterious art. We get asked a lot of questions on social media and in person so we thought we would create this resource to answer some of your Glassblowing FAQs. It's divided up by section to help you find what you're looking for. If you have any other questions, please leave them in the comments!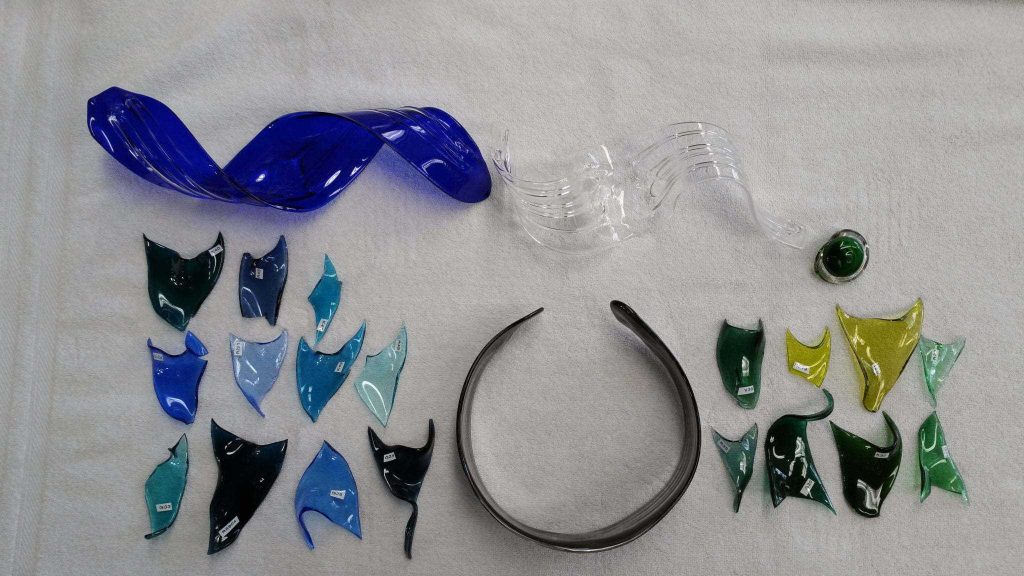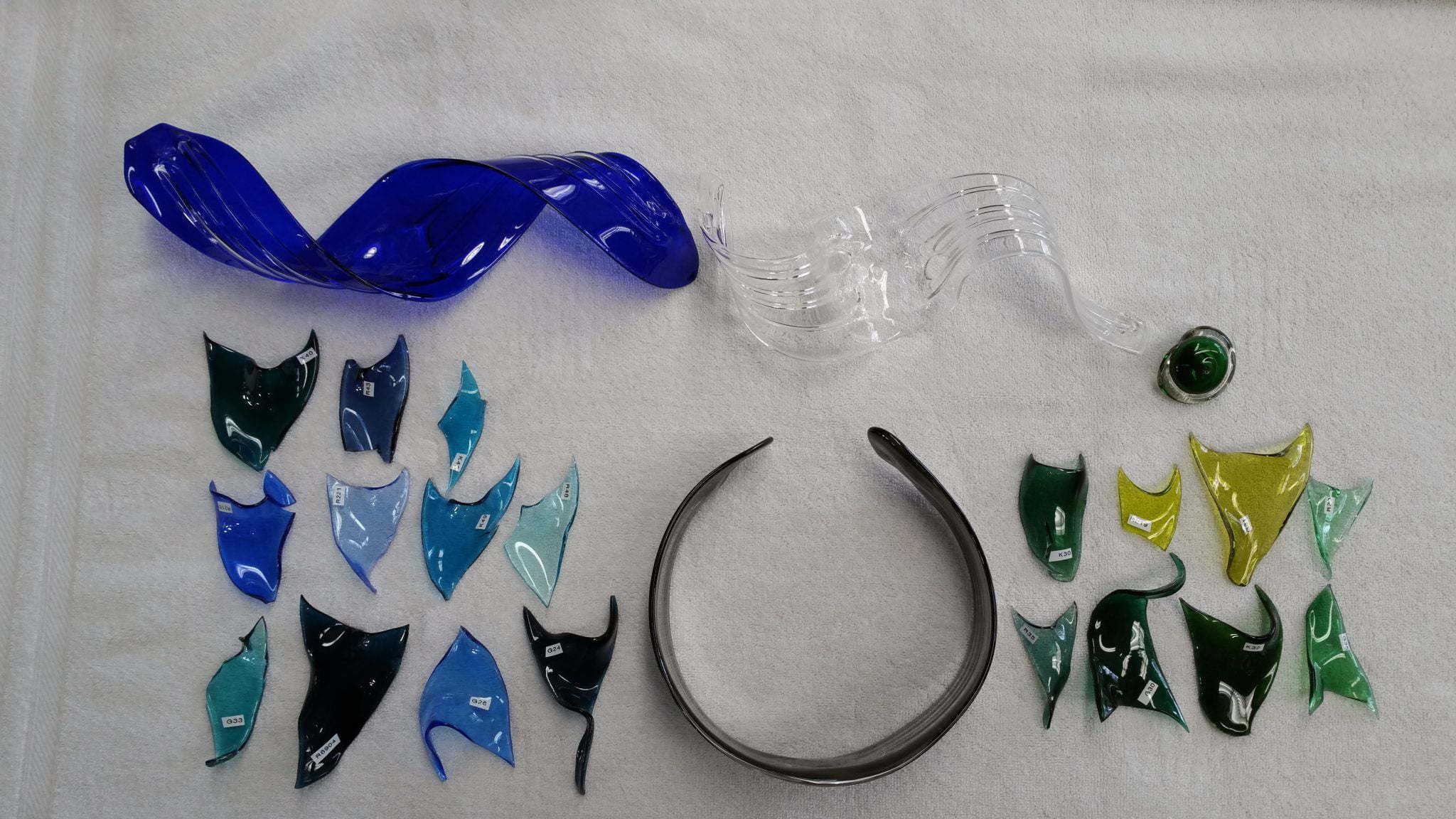 What kind of glass do you use?
In our studio we use Spruce Pine Batch, which is a soda lime glass. It contains soda ash, limestone, feldspar, lithium carbonate, sodium nitrate, zinc oxide, barium carbonate, fluorspar, antimony oxide. These raw materials, called batch, melt down into glass. The process of melting batch is called charging and is quite time-consuming. Our furnace requires about 24 hours to charge and cook the batch until it is relatively bubble-free.
Glass melts at temperatures up to 2400F and cools slightly to release air bubbles. To mold the glass, it is placed in the second furnace, or reheating chamber, where its temperature is sustained at about 2400F. The final step is annealing, or cooling the glass. In the annealer, the glass cools down slowly over night.
Why is glass so expensive?
We recommend you read our blog post on the topic. Many factors go into pricing any art. Glassblowing requires many years of training. Combine this with the time it takes to make a piece. Then add the cost of materials, tools and equipment. Add years of experience and the difficulty of a piece. This is just the short answer though – so definitely check out that blog post!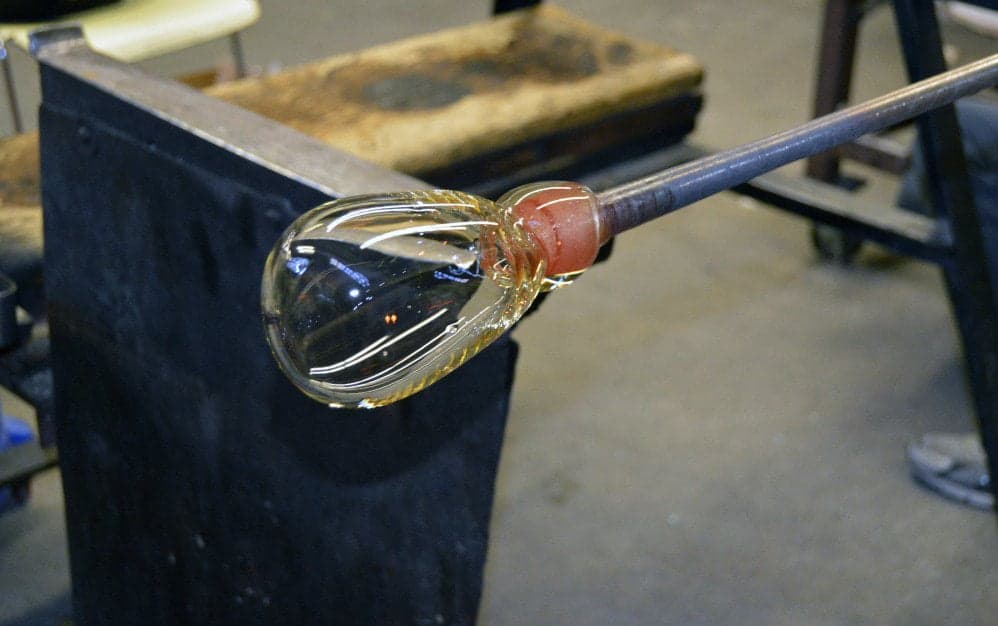 For any questions about glassblowing, we highly recommend our Glassblowing 101 blog post. This gives you an overview of the studio, glassblowing processes, tools and more.
How hard do you blow into the glass?
It depends on how hot the glass is. When you blow into the end of the pipe, the glass expands due to the moisture in your breath. The mositure hits the heat and expands the glass. You also blow differently at the beginning of the pieces versus when the glass is almost blown out.
What is it like to cut through glass?
It's similar to cutting through a thick piece of rubber. The glass squishes down a bit but doesn't bounce back like rubber. It's either really hard to cut or really easy dependent on how hot the glass is.
How do you remove the red/orange color from the glass and make it clear?
Molten glass is so hot that it looks red or orange, depending on how hot it is. So, while we're working on a piece, all color is distorted. Clear glass looks orange. Blue or green glass looks red. This is because you're seeing the temperature rather than the true color. As it cools down, you'll start to see the real color of the glass. At our workshops we always tell people to rely on the color of the frit when they're picking on colors. Once it's heated up, it looks completely different.
How do you add color to the glass?
The colors that can be added to the basic clear glass come in three forms: color rods which are made of concentrated colored glass and must be pre heated in the color warmer before applied, frits which are coarsely ground bits of color, and powder which enables the glassblower to layer color or produce fine gradations of color. The artist must carefully choose colors because no all colors are compatible due to the differing temperatures at which they retain or release heat.
Do you get burned all the time? The molten glass looks so touchable! How do you not touch it all the time?
Burns happen but not has often as you might think. The glass is SO hot and it's radiating hot, hot heat. Just standing by it will make your skin turn red. Over time you'll build up a bit of a tolerance to it. But in general, your brain won't let you touch molten glass – animal instinct and your subconscious brain feel the heat and want to stay away. When taking video with a cell phone, sometimes even they overheat from the proximity and need a break to cool down – it's really that hot!
How do you protect yourself from getting burned all the time?
Practice of course! Knowing where you should be at all times, and having knowledge of all the tools and torches. In glass blowing there are steps to every piece in order for it to be completed in an orderly way. If you follow these steps and know what to expect the chances of getting burned are reduced. We also have protective gear we wear from Kevlar. Kevlar makes protective gear for NASA and also for us glass blowers.
Why aren't you wearing gloves/safety glasses/different shoes? Shouldn't you be covered head to toe in fire resistant PPE?
Working with hot glass can certainly be dangerous. But it takes years of training and if you're trained properly, accidents are rare. The safety of our artists is our first priority and everyone in our studio adheres to safety guidelines. If you take a look at other glassblowers, you'll see that they dress the same and use the same safety equipment.
So why aren't we covered head to toe in protective gear and instead in shorts and sneakers? First off, its HOT in the studio. Gloves are very bulky and don't allow you to work closely with the glass. Safety glasses are important and we do wear them most of the time. If you see a picture or video where someone isn't wearing them, that's just personal preference. We have the Kevlar gloves mentioned above, sleeves and even a full protective suit but they simply aren't necessary majority of the time. 
So, please don't be shocked or worried – we're all staying safe and have years of experience working with glass!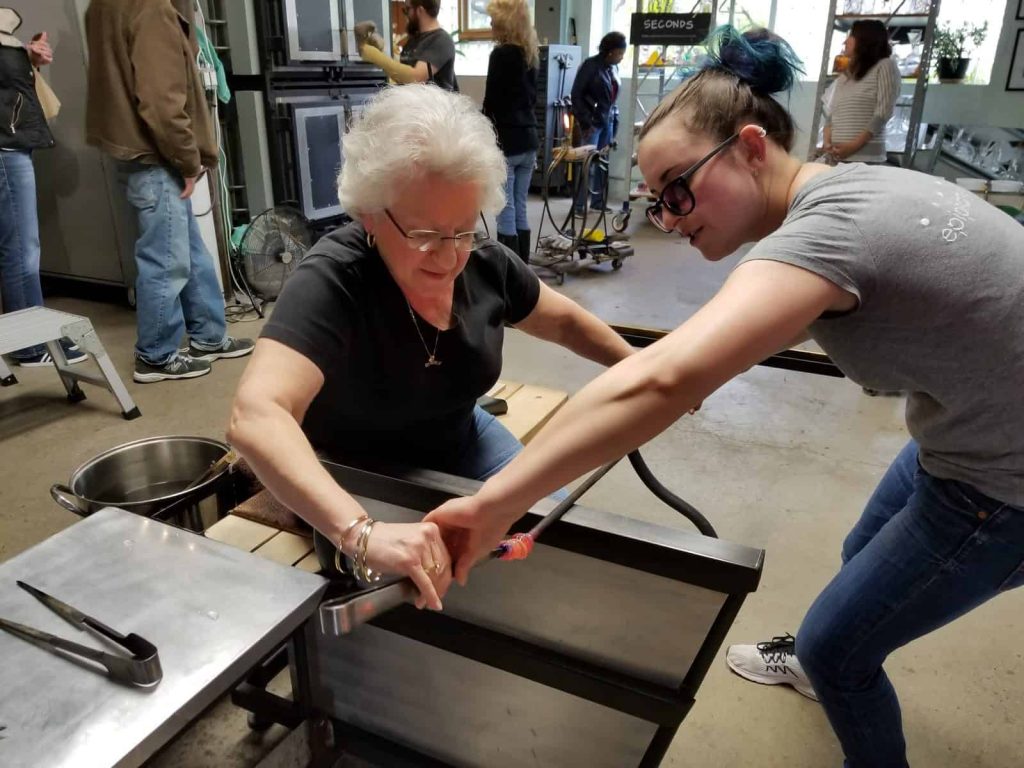 How do you get into glassblowing?
Aside from our workshops, we do not offer long-term classes or teach advanced techniques. In our hands-on workshops we primarily make solid hot-sculpted glass items. We do not teach techniques such as lampworking, fusing, casting or slumping. If you're interested in learning these other techniques or taking a more in-depth glassblowing class, visit the links above.
Can children take your workshops?
We say children ages 6+ can participate in our workshops. However, we ask that parents please use their discretion to know if their child can follow directions. 

Is your studio open all year long?
We work all year round. Our furnaces are running 24/7. We are very hard workers, and put our heart and soul into this studio. Because we are intensively working blowing glass all the time we are not open to the public during the week, unless an appointment is made prior. We are however, open every Saturday from 10am – 3pm for Saturday Shopping.
We have 2 open studios throughout the year, the first weekend in May and the first weekend in December. Sign up for our newsletter to keep up to date with our events, so you can really experience the true meaning of our craft!
Do you make custom pieces? Will you make me XYZ?
We do make custom pieces! However, there's also a great deal of custom work we don't do. If you see something on our website and would like it customized, we'd be happy to talk to you about it! Feel free to send us an email here. However, be aware that out website is a time capsule of artwork and some styles are no longer in production. Art evolves, so if you're interested in a piece from 20 years ago, that might not be a possibility.
We get people asking for specific animals, vessels, items from movies, one time even a tiara and glass slippers. You can certainly ask us, but it's unlikely we'll make things like this. If you're looking for something completely different from what you see on our website, we will likely pass. Anything that deviates from our typical style and production requires prototyping, experimenting and trial and error. This all raises the cost and takes a lot of time! Because we have a busy production schedule, we're unable to take time out to work on pieces like this.
Will you make a replacement for XYZ that broke? Will you repair XYZ?
Unfortunately, we rarely make replacement pieces and we do not do repairs.
Do you make jewelry/pendants/beads/dip pens/pipes/bongs?
Do you have a webstore / do you ship your artwork?
Our webstore has a wide variety of items including sculptures, decanters, gifts and more. We do not have everything that is available in the studio available in our webstore, but you can email us if there is something you're interested in. We currently have free shipping on all US orders.
Do you ship internationally?
Yes, we do ship internationally but the customer pays for shipping, duties, fees, customs and taxes. You can get a shipping quote in our webstore and place your order there.
Do you ever sell your seconds?
Yes! We have our seconds for sale in our studio. We do not put them online or our webstore. If you have questions about what we might have, you can email us. Seconds are not eligible for free shipping. 
Do you have other locations?
Yes! We have a small shop located at Orchestra Hall in Midtown Detroit. We are not currently open due to COVID restrictions, but you can find more information about epiphany at the DSO here.
Do you sell your art in galleries/ art fairs/ stores?
Our art can be found in various galleries around the country and online. We work with wholesalers and online retailers including Artful Home and Uncommon Goods. We used to participate in art fairs but do not any longer.