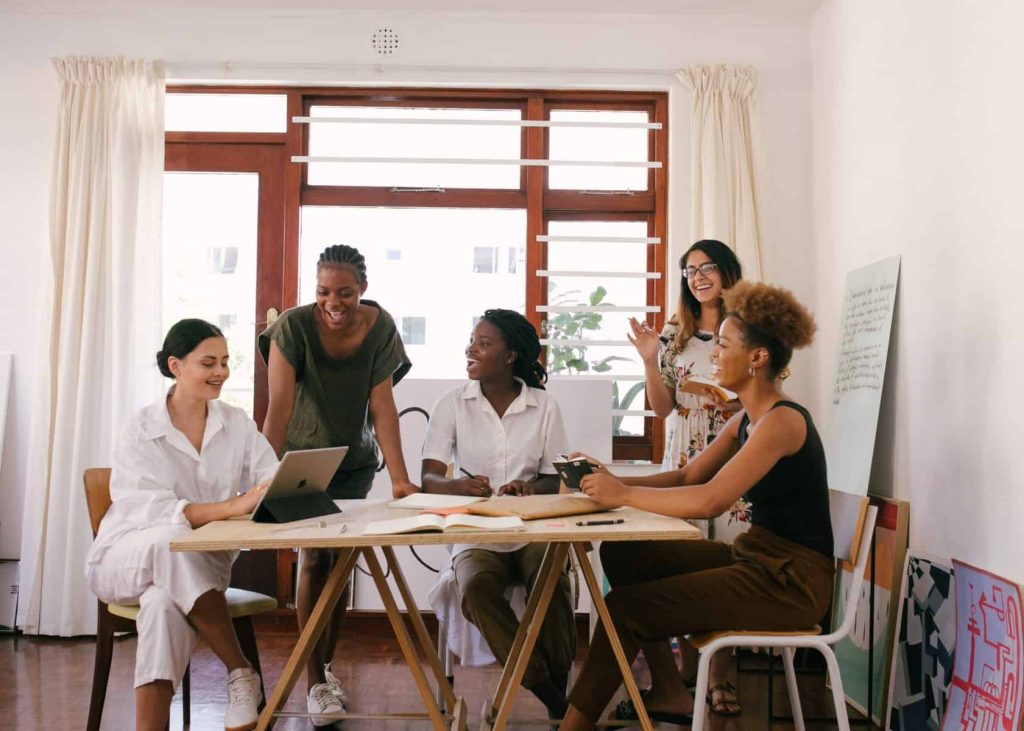 March is Women's History Month! As you know, epiphany studios is a women owned business (if not, read all about it in this blog post) and we love to support our fellow women.
All month long, WBENC is campaigning to get people to support and open their wallets for women owned businesses. We though this was the perfect time to share some of the amazing local businesses owned by amazing women we know and love. So, take a look at the list, shop around and show some love to these incredible women. And don't forget to use the hashtag #BuyWomenOwned when you post about all the wonderful businesses you've supported.
Love. Travels. Imports. – Offering fair trade, handmade artisan wares. Featuring one-of-a-kind, unique and beautiful women's handmade accessories and home accessories.
Source Booksellers – an independent bookstore in Detroit's Midtown district, is a unique niche of non-fiction books.
The Black Dress Co. – Upscale boutique for classic women's apparel ranging from casual to custom-made, plus accessories.
City Bird – Compact gallery & shop features Detroit-themed housewares & gifts crafted by local artisans.
The Peacock Room – A specialty boutique located in the historic Fisher Building in the New Center area of Detroit.
My Urban Toddler – They hand-pick the best in kids' clothing, toys, books, and accessories so that you can celebrate the growth of your children in style.
Rebel Nell – A Detroit based social enterprise that empowers women, creating Graffiti Jewelry from chipped paint and offering classes in financial success.
Women-Owned Restaurants & Bakeries
Sweet Potato Sensations – Sweet potato pies, cookies, cake, cheesecake, ice cream, cobbler, muffins & sweet potato pecan pie.
For the Love of Sugar – Sweet shop for housemade macarons & cakes with artisan coffee drinks in whimsically elegant digs.
Detroit Vegan Soul – Detroit's first 100% vegan soul food restaurant. Fresh, mostly organic plant based food.
House of Pure Vin – Signature retail destination and a consumer attraction for wine lovers and future connoisseurs.
Avalon International Breads – A bakery that produces a wide variety of  baked good including  breads, rolls, pizzas, cookies and pastries.
Drifter Coffee – A coffee shop and community space in Ferndale, Michigan.
Female Artists & Women-Owned Galleries
Simone DeSousa Gallery – Contemporary art gallery located in Detroit's Cass Corridor
Playground Detroit – Creative Agency and Art Gallery
ArtLoft – A unique boutique of curated Local and International home goods and clothing.
Women's Work Art Gallery – An online project and gallery of artists and exhibition focusing on work and narratives of women and those who identify as women.
Other Women-Owned Businesses
Canine to Five – The area's premier provider of dog boarding, dog daycare, grooming & training services.
J'adore Detroit – Detroit lifestyle blog centered around events, food & drink, fashion, art, design, music, and entertainment in and around the city of Detroit. 
Citizen Yoga – Yoga studio that empowers the individual by teaching a safe, alignment-based yoga practice that students of all levels can maintain throughout their lives.


We know it's an uncertain time for everyone, so if you're unable to speak with your wallet at the time, there are other ways to show your support. Post about your favorite women-owned brands on social media, leave positive reviews for the on Google and Yelp or even just talk about them with friends. The options are limitless!
And if you'd like to support our women-owned business, here are a few ways!
1. Sign up for our weekly newsletter. It's free and you'll get fresh content from us each week. We've started sharing exclusive photos and videos of new and exciting projects that only our newsletter subscribers will get to see. We also be give our subscribers first access to new art and send out the occasional coupon!
2. Follow us on Facebook and Instagram. Like, comment and share our photos and videos. We post daily, so you'll always get to see beautiful glass art and see what's going on in the studio.
3. Leave us a positive review on Google (click here). This will help us be seen by others searching for glassblowing studios and glass art!.
4. Shop in our webstore, visit us any Saturday from 10am – 3pm for Saturday Shopping. It's not too early to start buying gifts for the holidays! And if you're subscribed to our newsletter, you can use those great coupons we send out.
5. Talk about us! Let others know how much you love our art, glassblowing classes and customer service. It really goes a long way.
So get out and support your local women-owned businesses any way you can! It's appreciated. 🙂