You may have seen the "Certified Women Owned Business" logo on our website, but do you know what it means? The title is awarded by the
Women's Business Enterprise National Council
. To qualify for this designation, our business had to meet the following criteria:
– The business must be owned at least 51% by a woman or women.
– The woman owner of the business must serve as either President or CEO.
– The woman owner must be active in daily management.
We're proud to have not only met, but exceeded these qualifications. Epiphany studios is 100% women owned. Beyond that, we employ women in all aspects of our small business, from glassblowing, to management, marketing, and PR. And while a woman (April Wagner) has always been at the helm, her choice in supporting players happened organically. Women were hired over the years because they were, in each case, the best people for the job. We hope to contribute to a culture in which that attitude always leads to a balance of genders in the workplace, no matter what the industry.
Glassblowing, like some other art forms, has traditionally been a male dominated field. Artists April and Rebecca Silverman are working every day to disprove that stereotype. How do they accomplish this? Take a look: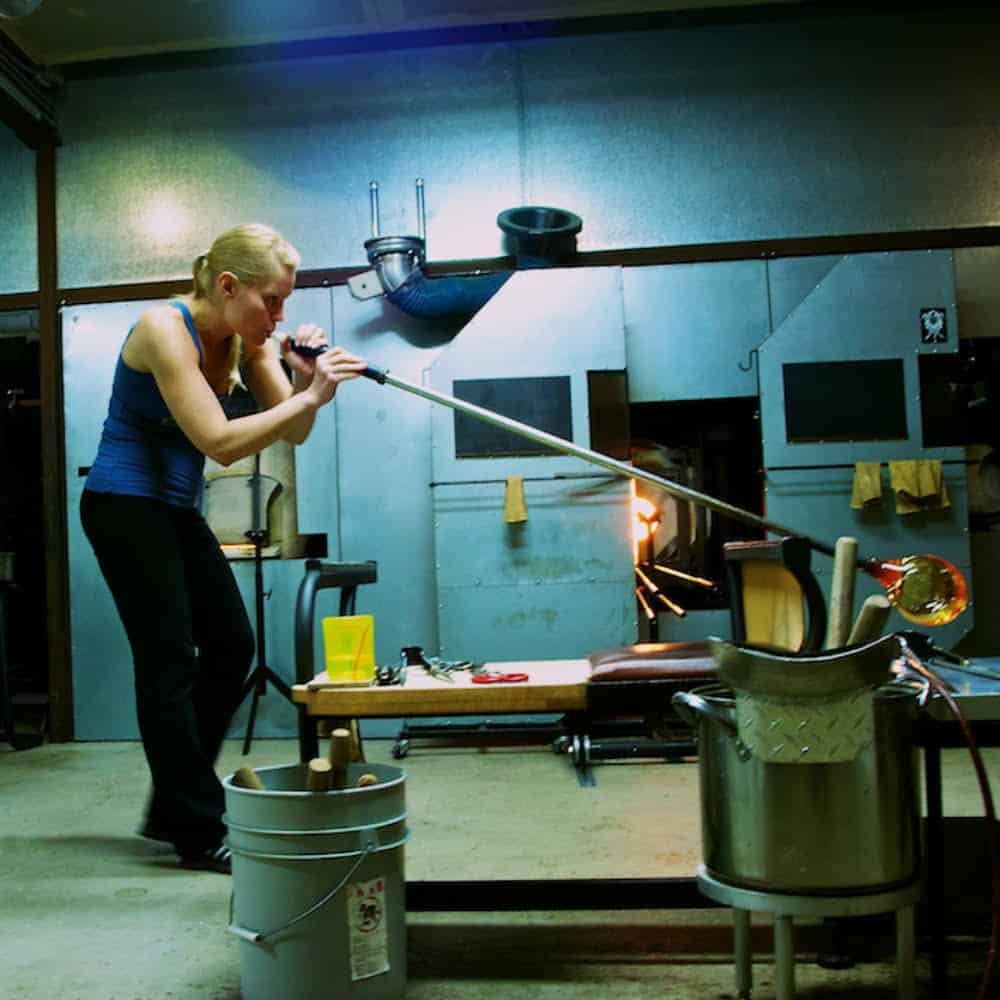 Pretty badass, right? April
has been blowing glass for over 25 years, and is a master of her craft. After only 4 years working in this medium, Rebecca is already an accomplished artist, and a crucial assistant to April. "Before working for April, I was constantly surrounded by guys no matter where I was blowing glass," Rebecca explained when we spoke recently. "Learning this craft from her has been an amazing experience."
Both women are noticing an uptick in the number of female glass artists, and hope to see that trend continue. Studio manager Mary Griffin is also a major contributor to our collective Girl Power. She and April have worked hard to create an environment where creativity can thrive. Their no-nonsense approach to business is balanced out with a lot of love.
We're grateful to the WBENC for including us in their organization, and for the networking and other opportunities that it's provided. Interacting with other women business owners in Michigan, and seeing the many diverse industries that they're pioneering, is a constant source of inspiration. And of course, the men who work for epiphany are equally as important to our success, and are valued members of our team. That is the future that we want to be a part of – one in which a woman business owner is not a rarity, and one in which all people are valued as equals.