If you didn't already know, last year our charity partner, formally known as the Michigan Humane Society rebranded! They are now simply called, Michigan Humane, and have an adorable minimalist geometric animal shaped logo to match. With this exciting news for Michigan Humane, we thought it was the perfect time to discuss our ongoing partnership with them. So keep reading to learn more about our work with Michigan Humane and how you can help this amazing organization.
For years now, epiphany glass has partnered with Michigan Humane in an effort to find loving homes for all of Michigan's furry friends in need. Our founder and owner April Wagner is a lifelong animal lover, and especially fond of cats. After many years of volunteer service she joined Michigan Humane's board this year, which we're super proud of! We also donate partial proceeds from the sale of all pet-themed items to Michigan Humane. But our relationship with them doesn't end there.
In addition to our Michigan Humane collection of work (which we explore more of below) we have also worked with them on various events over the years. They send volunteers to help us with our open studio events. This gives them an opportunity to educate our patrons about their work rescuing and adopting animals, and it gives us some much needed support on those busy days. 
We also participate in many Michigan Humane events throughout the year, such as the Bow Wow Brunch and the Mutt March. We've found this is a great way to help an organization that we believe so strongly in, and to bring like-minded animal lovers to epiphany. Now let's take a look at our pet items!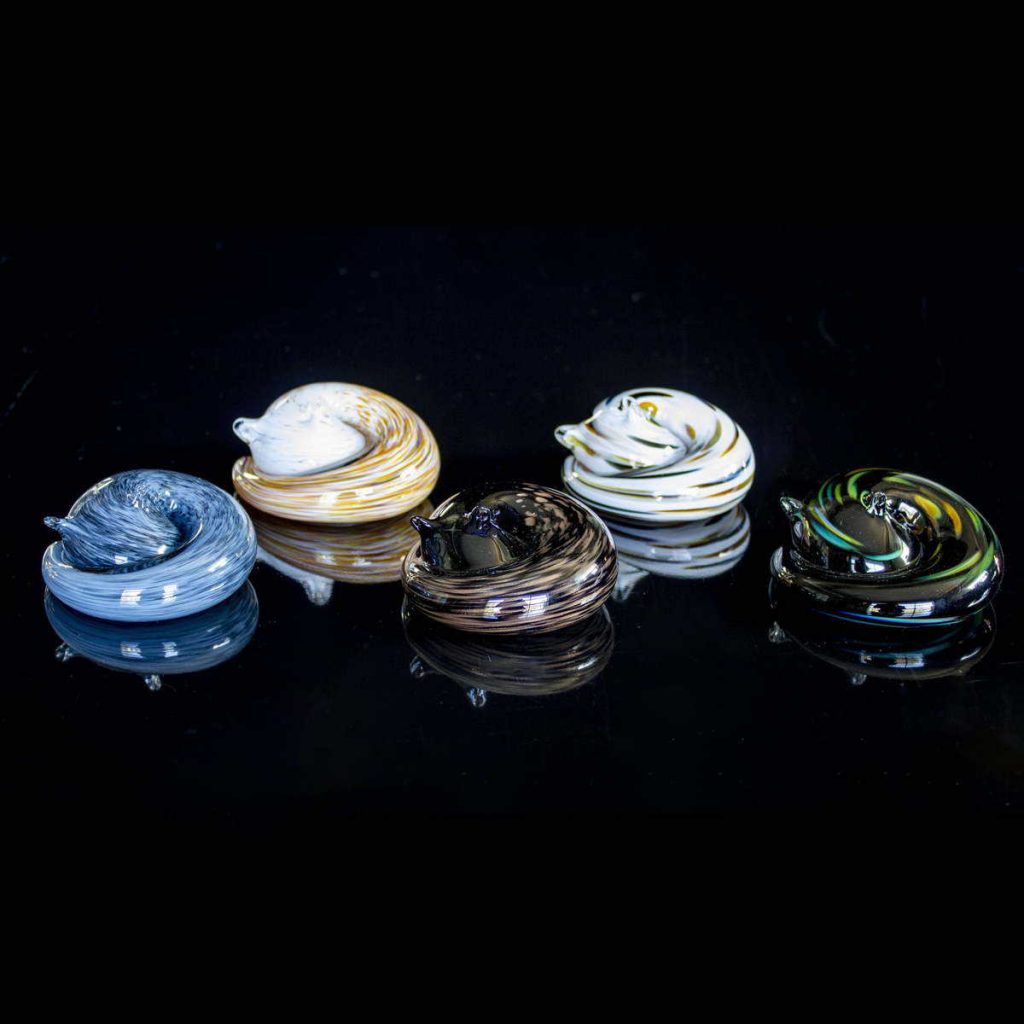 These sleeping kitties are some of our most popular pet-themed items. They're the perfect gift for the cat lovers in your life. They're small, affordable, and completely adorable. April created this design years ago when our relationship with Michigan Humane was just beginning. She'd long been searching for a way to incorporate her affection for cats into her work with hand-blown glass, and this seemed like the best possible marriage of the two. 
We make these kitties in a wide variety of colors and patterns. We could even custom-make one to look like your own cat! And every purchase comes with the very special bonus of helping animals in need. We can also make memorial kitties and incorporate the ashes of a furry loved one who has passed.  
Get one for yourself or a friend here!
We started making these dog bones about a year ago and originally released them as a reward for our Kickstarter campaign. Although we have cats all over the studio, we love dogs too and didn't want to leave out fellow dog lovers. These adorable dog bones are available in a variety of colors and look amazing on your desk or a shelf. The perfect reminder of Fido when you're away from him.
As with our sleeping kitties, we have also incorporated ashes into dog bones as a pet memorial. We often get asked if we make sleeping dogs. The reason we chose bones is because dogs come in so many different shapes and sizes. They have more distinctive characteristics, making them harder to make from glass compared to cats, which are all quite similarly shaped. 
Get one in our webstore here!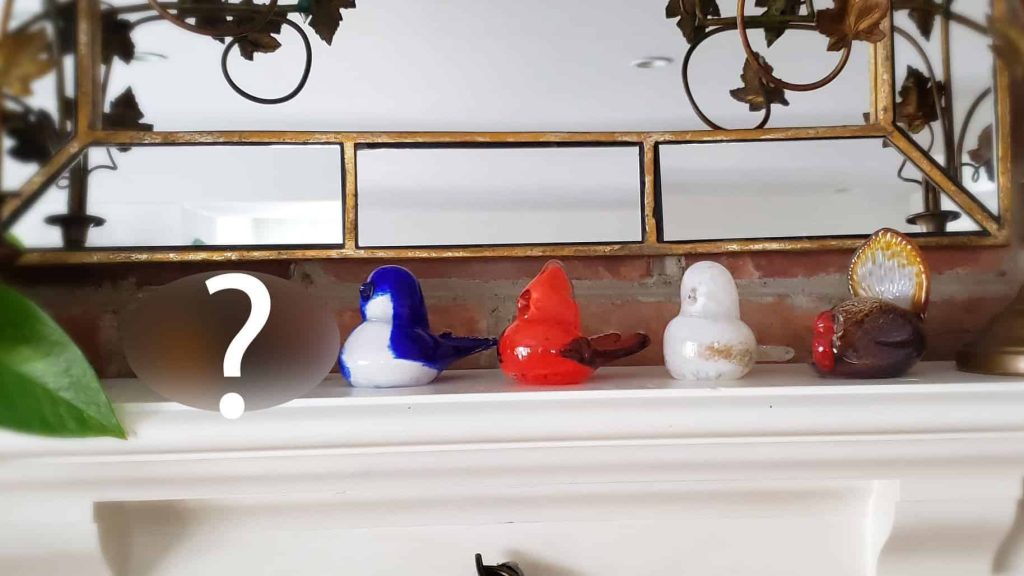 Since we released our cardinals in  July 2020, we haven't been able to keep them in stock! Our beautiful blue birds followed them a few weeks later, followed by a gorgeous dove and at Thanksgiving we released an adorable turkey. People have been sending us the most beautiful emails about what these little birds mean to them. We're so glad to be able to provide meaningful and symbolic art to you. Both of these birds are available in our webstore. AND if you're subscribed to our newsletter, we have a new bird coming out Friday 2/13. Sign up for our newsletter to be the first to get access to our latest Bird of Beauty. And find the full collection here.
April has also created decanters and decanter sets adorned with fantastic paw-print stamps. You can see the 'cat head' stopper that tops the decanter. These are also available with super cute dog heads. These pieces are made with all of the talent and finesse that go into our regular decanter sets, and a lot of extra love. 
The team at epiphany may consist mostly of cat people, but we love dogs as well, and we know how crucial it is that all domesticated animals find safe and loving homes. April has even gone out with the rescue team from the local MH chapter and assisted them in finding stray dogs and cats and bringing them into shelters for healthcare, grooming, and ultimately adoption. She's appeared on various local news stations with Michigan Humane to promote pet adoption, and will continue to work closely with this organization in the future.
If you'd like to see our pet collection in person, you can come into the studio from 10am – 3pm on any Saturday for our weekly Saturday Shopping. And if you're looking to adopt a dog or cat, please consider rescuing one instead of buying one. There are so many animals out there that desperately need a home, and in our experience, rescues make the absolute best pets. You can find more information on the Michigan Humane Website.
And don't forget to stay up-to-date with us on Facebook, Instagram or by signing up for our weekly newsletter.