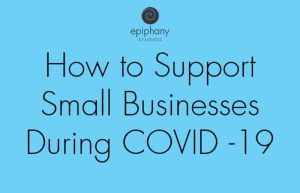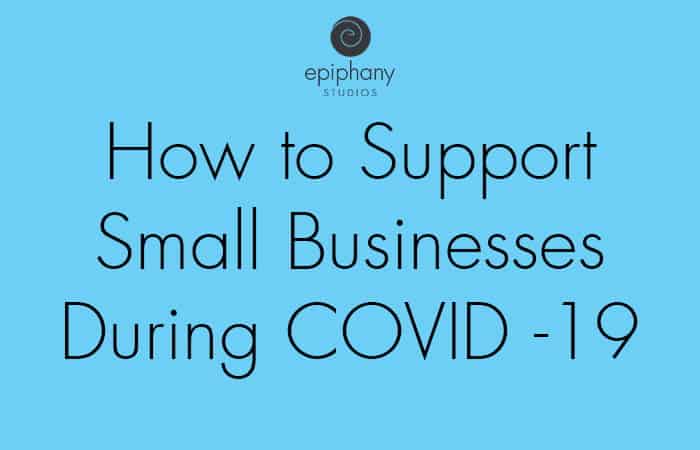 We're all going through this crazy time together so we wanted to put aside the fearful news updates for a minute and give you some ideas on how we can work together to make things better for our hearts and our communities.
Small businesses are hurt by this virus. These businesses are the backbone and flavor of our community, we need to support them now so they will be here once the dust settles. The purpose of this blog is to let you know about local small businesses that need your help during this time.
Please read and share with others. We can't list every small business in need of help so if you know of any others please give them a mention in the comments. 
Our small business is experiencing cancelled orders, delayed projects, the temporary closing of our epiphany at the DSO store and Saturday shopping at the studio.
If you would like to support us at epiphany studios, we have e-gift cards available here and a selection of beautiful handmade glass items available in our webstore.
We are currently offering FREE SHIPPING on all items in our webstore. Use code 'ARTGLASS' at check out and make sure free shipping is selected under shipping. (Please note, e-gift cards and physical gift cards cannot be used in our webstore. They can be used in person or over the phone.) Thank you for your support!
Rebel Nell – Our creative friends at Rebel Nell just shared a wonderful message from their CEO that you can find here. Their storefront is closed but you can shop for jewelry and accessories in their webstore. Save 20% by using the code SUPERWOMAN and get free shipping on all orders.
The Peacock Room – A collection of women's apparel and accessories. Purchase a gift card from them to show your support! PM them here to order one. 
Green Daffodil– A small business that sells handmade soaps, candles and other natural products. They are offering curbside pickup and working on getting gift certificates online.
City Bird – Carries a house line of Detroit- and Michigan-themed products. 15% off store-wide with code STAYHOME. Curbside pick-up and same-day local delivery now available.
Margaux & Max – "Previously loved" fine women's contemporary and vintage clothing, shoes & accessories. Private appointments and shipping available.
Grammar Designs – Handmade ceramic jewelry. Use code GOODGRAMMAR to save 15%.
Parks & Rec – (Detroit) Fresh farm-to-table favorites, get some comfort food delivered curbside. Click here for their menu.
Bobcat Bonnie's – (Multiple locations) Gift cards available. Contact them here to order one.
Ale Mary's – (Royal Oak) Open for carry out from 12-9pm.
Edo Ramen – (Royal Oak) Curbside pickup, order through DoorDash and Postmates.
J's Penalty Box – (Ferndale) Carry out and delivery. Order beer and wine too!
Imperial – (Ferndale) Carry out from 11am – 9pm.
Find more restaurants and what they are offering at Metro Detroit Restaurant Updates.
Paws Around Motown – Dog walking and pet care services. Gift cards available. 
Space Spa – Offering gift cards for their spa that can be used at anytime.
Order and Form – Home organizing services. Offering 10% off of gift certificate of $100 or more through March.
There are many ways to help out artists and creatives. Many are holding fundraisers on social media. Musicians are hosting Facebook Lives with fundraisers to try to raise money since their gigs have been cancelled. One of the best ways to support artists and creatives is to purchase their work. Look out for special offers like free shipping or discounts in webstores. This article offers great ideas on how to help out your creative friends.
We understand that everyone is going through rough times. If you cannot contribute financially, you can still help by sharing this post or sharing posts from your favorite businesses. And again, please let us know of other opportunities to help in the comments. Thank you so much for supporting us and other small businesses.
If you're stuck at home and need something to do, check out our Instagram. We post glassblowing videos daily! Keep up with what's going on in the studio by following us on Facebook or signing up for our newsletter.