Last month, at the
Architectural Digest Design Show
in NYC, we debuted our new lighting line, La Ruche. Based on the playful gathering and folding of fabrics, with a nod to the organic, layered beauty of a beehive, the gorgeous La Ruche designs are highly functional, exquisite lighting, that adds elegance to both contemporary and traditional spaces.
The term, la ruche, translates into "the hive". Combining themes of art and nature, this is a fitting name for this new lighting. The glass looks similar to a beehive and is created by laying and folding coils of glass onto itself. An avid gardener, April is fascinated with bees, bee culture, and their ingenious, important role on our planet.
The La Ruche lighting was exceptionally well received in NY. We are thrilled that everyone loves them as much as we do! This post will take a more in depth look into these new fixtures.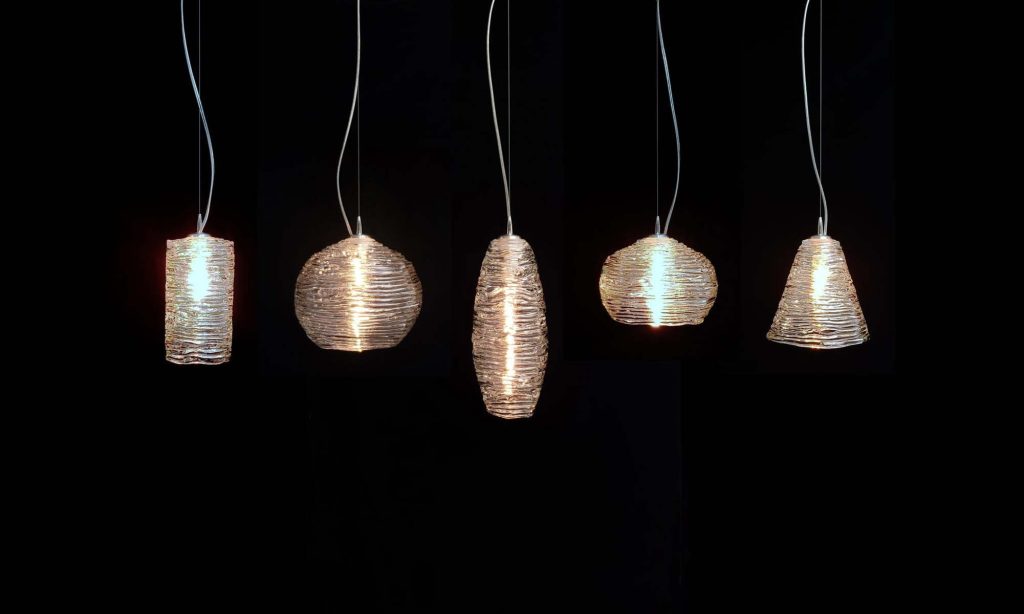 Each piece is individually hot sculpted by hand, using a coil technique. Many people ask if this is a blown technique, as most of our work is blown. This is not, it is a type of solid working the glass. Still created in front of the 2000 degree furnace but they are formed on the puntil rod, which is a solid rod and not the blow pipe.
We've never seen a coil technique used in the hot glass studio before, it is a traditional ceramics technique. Before taking up glass April studied ceramics at
Interlochen Arts Academ
y under Jean Parsons. After that at the prestigious
NYS College of Ceramics | Alfred University
with Val Cushing and Wayne Higby. The coil technique is a traditional ceramics technique, thousands of years old and originating in Japan. Read more about it here:
Coil Technique
There are 5 different shapes in the line, available in a variety of sizes. Based on simple geometric shapes that give character to any environment. Whether traditional or contemporary, residential or commercial the La Ruche fixtures add visual interest with classic shapes, organic texture, and tons of sparkling light.
Let's take a look at each of the styles individually and what makes them unique. We have been showing these lights as pendants, but they are also available as tabletop or sconce lighting.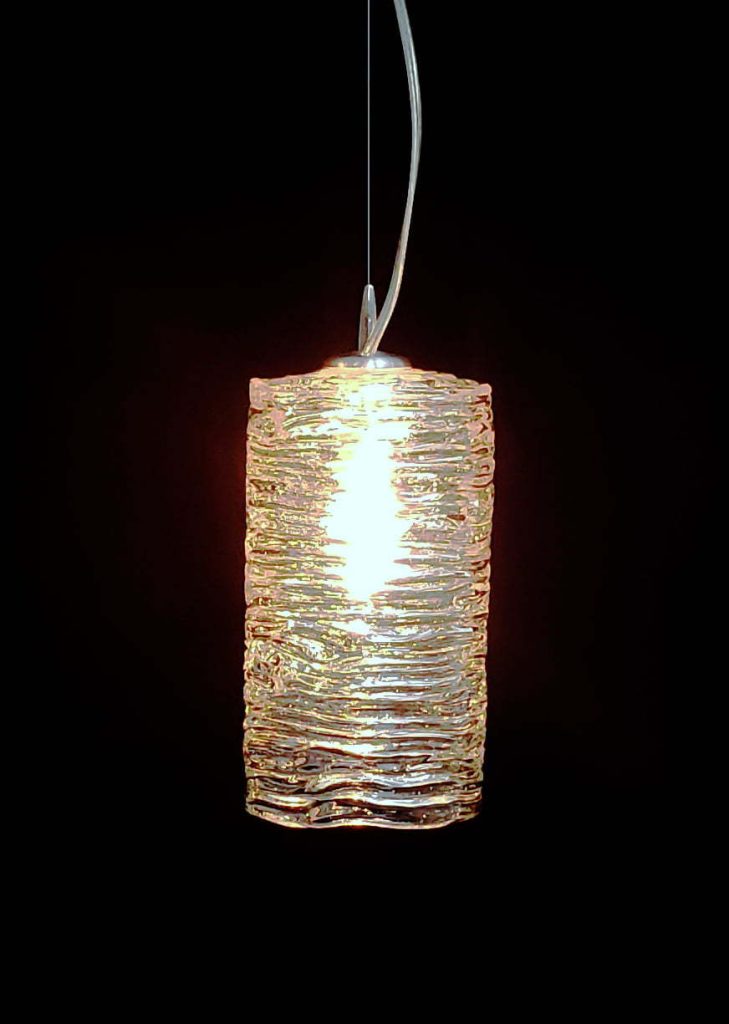 6'D x 11″H 7 lbs
4″D x 8″D
4 lbs
The Drum is a simple and classic lampshade shape. It looks great in both linear and freeform spaces. The long cylindrical shape recalls modern designs while the integrating coils are less structured in their application and texture and give the fixtures an organic, fluid, and natural feel.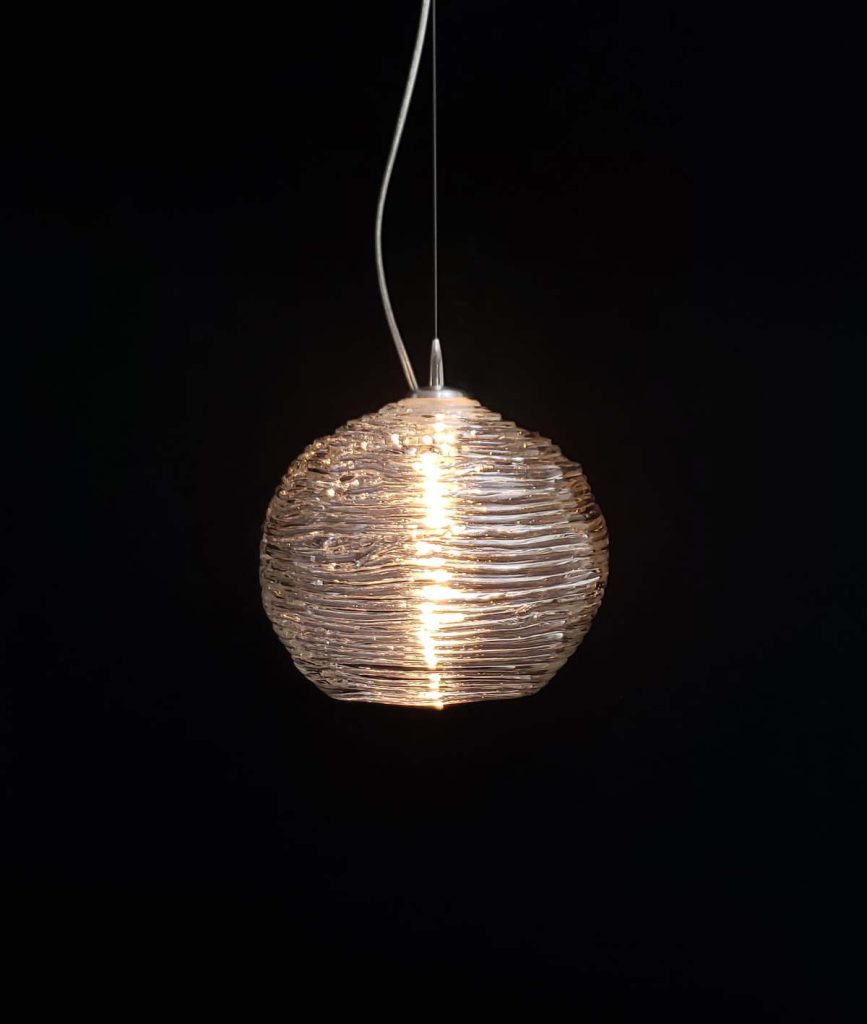 12″D
12 lbs
8″D
5 lbs
6″D
3 lbs
The Globe is an archetypal shape that uses organic textures to really bring to mind the layers of a beehive, one of the inspirations and namesake for this line. Extremely versatile, the variety of sizes of Globes could be hung independently or grouped together to make a unique and attractive chandelier.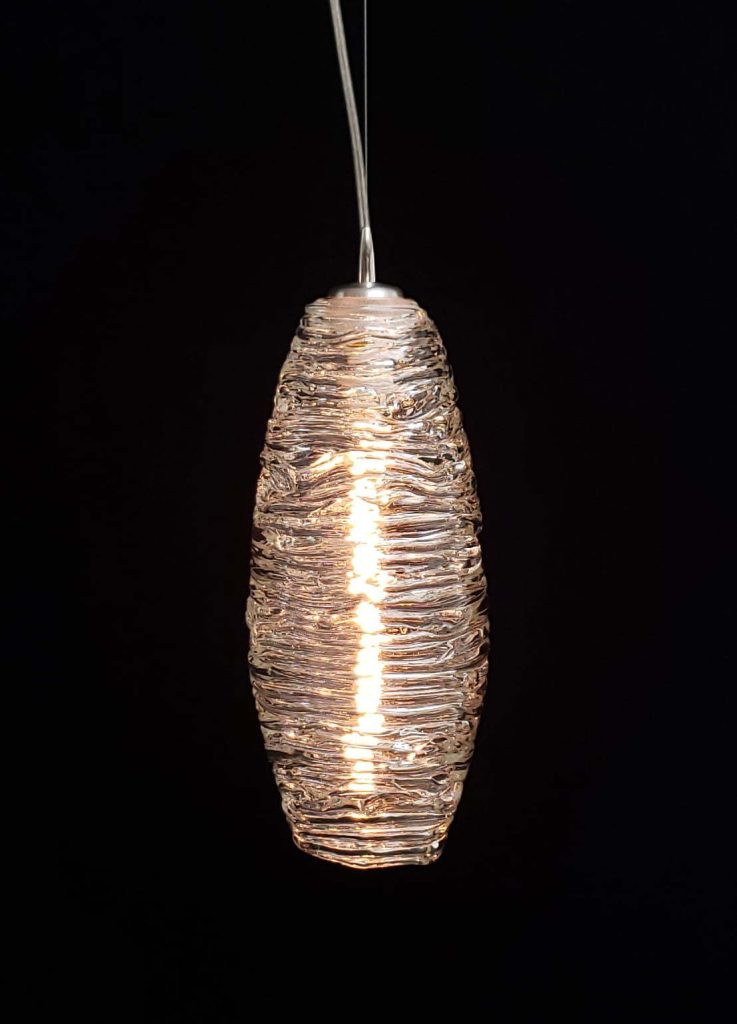 7″D x 16″H
8 lbs
5″D x 12″H
5 lbs
The Pupa style has coils that swell gently outward on an elongated form to create a sophisticated, elegant shape. This unconventional, organic shape adds something very special to any environment and would be stunning hanging in a tall entryway with a high ceiling.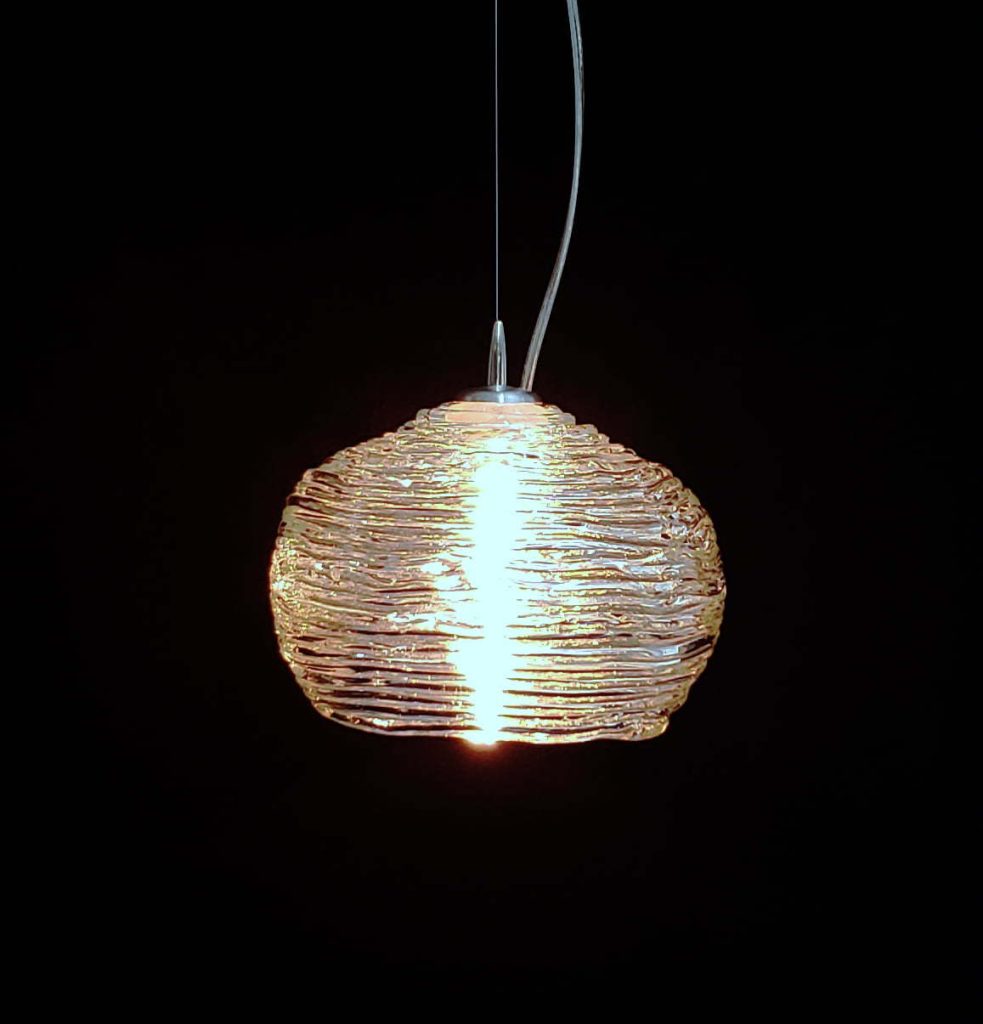 14″D x 8″H
8 lbs
Similar to the Globe, the Ovid is a smaller dome-like shape that gives a great deal of attention to the textures of the glass. Available in only one size, this shape allows a lot of down light over an island, for example, so it is not only beautiful but also highly functional.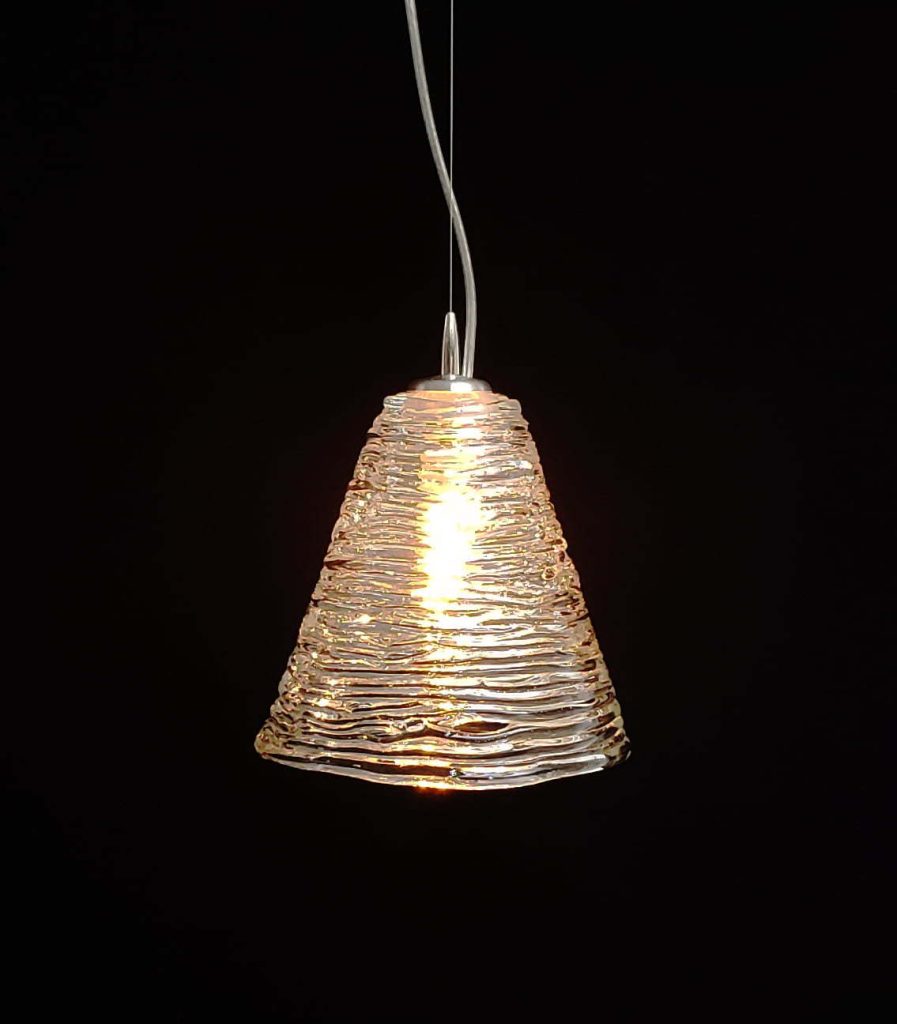 10'D x 10″H
6 lbs
5″D x 5″H
2 lbs
The Bell flares out at the bottom like an elegant gown to create a dynamic shape and calls to mind the gathers and folds of fabric. The bell is another shape that makes a great tabletop lamp shade.
Currently we offer 4 types of hardware with the La Ruche lighting: Copper, Brass, Nickel and Black Pearl. Fixtures with a weight over 6 lbs are hung from a stainless steel aircraft cable and loose clear electrical wire as seen in the pictures above. Fixtures under 6 lbs hang from the electrical wire only. The wire is available in clear or the matching rayon color to the canopy finish. We include a dimmable LED bulb as well.
Each of these variations in the La Ruche line will bring a timeless but fresh element to any space they are in. They look great individually or grouped together. Combine a variety of shapes and sizes, or keep a uniform grouping, these lights look gorgeous no matter what. Not currently available in our webstore, so for pricing and delivery time please email
[email protected]
or call us at 248-745-3786.
The lights will be available on our webstore in the near future. Keep an eye out on social media or sign up for our newsletter to be kept up-to-date.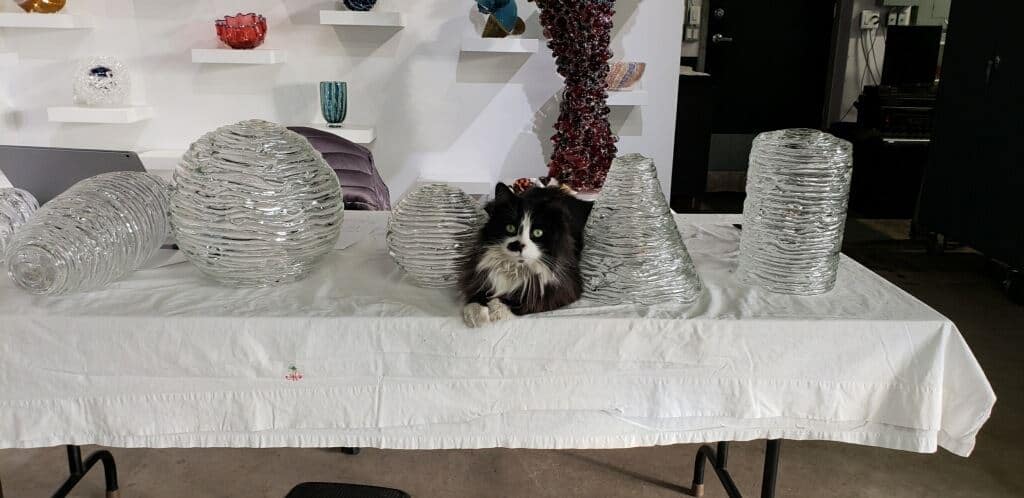 Cats love them too! Cat Jack White is a fan and looks great next to them.
April has traditionally created custom lighting for private residences and public spaces across the country. This departure from bespoke pieces will offer the handmade quality, craftsmanship and artistry of the custom pieces to a wider audience of designers, architects and homeowners.