Last week team epiphany was in NYC for the Architectural Digest Design Show (ADDS). This was our first time attending the show and we are very excited to report the AMAZING response to our lighting! We debuted our new line of pendants, La Ruche, and showcased April's Tangled II bespoke chandelier.

The Architectural Digest Show is a curated event that showcases the best in the design and luxury markets both by independent makers and established manufacturers. If you follow us on social media, especially Instagram, you've probably seen videos and images showing us creating the new lighting.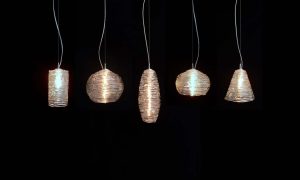 La Ruche Shapes: Drum, Globe, Pupa, Ovid, Bell
These light fixtures are inspired by playful gathering and folding of fabrics. They also reference the organic, layered beauty of a beehive. The gorgeous La Ruche designs are highly functional, exquisite lighting. They add elegance to both contemporary and traditional spaces. Shown as pendants, these fixtures are also available as tabletop or sconce lighting. All the shapes except the ovid, are available in different sizes and come with an LED dimmable bulb. These designs are versatile and unique and are sure to add something special to any space.
The breathtaking, Tangled II Chandelier was a show stopper. Appreciated as both sculpture and elegantly functional fixture. The 10-ft. tall chandelier is comprised of 108 hand blown, 4-ft. glass pieces cascading in an array of curved gold tones. Highlighted by hundreds of LED lights to brighten any entryway. 
The Tangled Chandelier is a smaller version of a custom lighting installation (shown right). April designed and created this piece for a private residence.
Tangled II was also shown at April's solo exhibition at the Saginaw Art Museum. The ADDS was a great opportunity to share this unique piece of functional art with a larger audience.
Until now, epiphany has focused on custom lighting and chandeliers. La Ruche will allow us to bring our vision to a larger client base while offering the same high-quality craftsmanship and beautiful design.
Follow us on social media to see what we are doing next. We'll also be sharing the lighting journey more in depth with you in a blog post a few weeks from now.
Thank you so much for all your support and inspiring us to create new art!