Two weeks ago we opened the doors to our new Pop-Up Shop at The Shapero Lounge of The Max M. & Marjory S. Fisher Music Center in Midtown Detroit! Also known as Orchestra Hall, this beautiful location in the heart of Midtown is home to the Detroit Symphony Orchestra.
We are located on the corner of Woodward and Parsons in this beautiful storefront. Close by are a variety of restaurants including Union Street and The Block, art galleries like Gallery Camille, Simone DeSousa Gallery, Detroit Artists Market and MOCAD and a variety of other shops like City Bird, Nest, Shinola and Third Man Records. There's a lot going on in Midtown for the holidays, and we're excited to be in the middle of it all.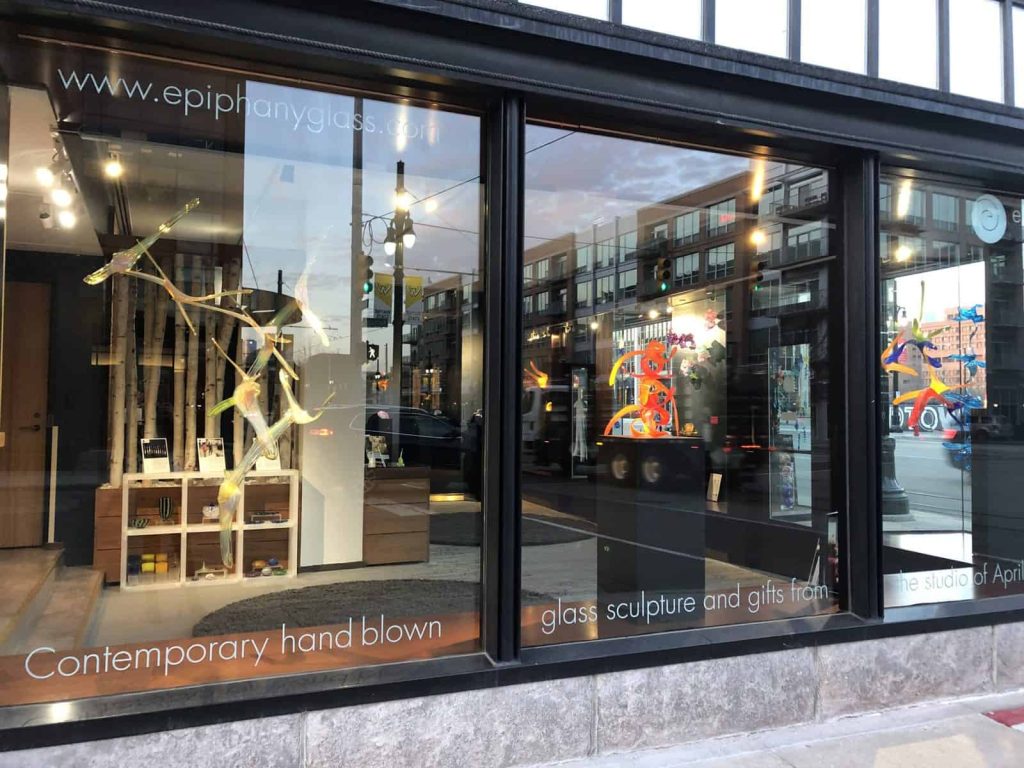 We've filled the store with all types of beautiful handblown glass. We curated this collection to include a balance of unique sculptures and a selection of popular items that make great gifts for the holidays. 
These large pane windows offer a great view of the surrounding city and make a great place to display our selection of ornaments. We also have small wall-hanging sculptures and freestanding sculptures, all of which are one-of-a-kind.
A beautiful wooden alcove makes an ideal place for us to showcase our collection of decanters, Zanfirico bowls and gifts. Glassware makes wonderful presents, especially at Christmas. We have decanters to fit every style, pint glasses, rocks glasses and swizzle sticks. We also have smaller pieces such as ring holders and paperweights that marry form and function. And of course we have our popular and adorable Sleeping Kitties. As with all of our pet products in the studio, a portion of the proceeds from their sales goes to benefit our favorite charity, the Michigan Humane Society.
Throughout the shop, you will find new unique sculptures that haven't been displayed anywhere else. These pieces really come to life within the architecture of this space and with the dynamic background of the city. Above you can see an example of the small sculptures April has been making, a large Fazzoletto Bowl, a gorgeous flower sculpture and a large hanging sculpture. 
We will be at this location through the end of 2019. Check our Facebook event page or follow us on Instagram to keep up-to-date with our hours. And be sure check out the schedule for the DSO and come out to see one of their wonderful symphonies while you're in the city. Stop by and visit us sometime soon!