The holidays are here, which means we've been churning out hand-blown glass ornaments since late August! We make hundreds, sometimes thousands of ornaments each year. In the video above, you can see studio artist Rebecca making one of our signature
Round Ornaments
. The day this video was shot, she single-handedly produced at least 30 of them. We love having ornaments in our repertoire for a variety of reasons. First and foremost, we respect the iconic status of ornaments as part of the holiday tradition. Second, we think that glass ornaments are gorgeous. And third, we see so much potential for creativity in the design of ornaments.
This weekend, WXYZ Channel 7 news visited our studio and anchor Jennifer Ann Wilson tried her hand at making an Icicle style ornament, with help from Chris. You can watch the full video from their visit
HERE
. It was a lot of fun, and Jennifer did a fantastic job!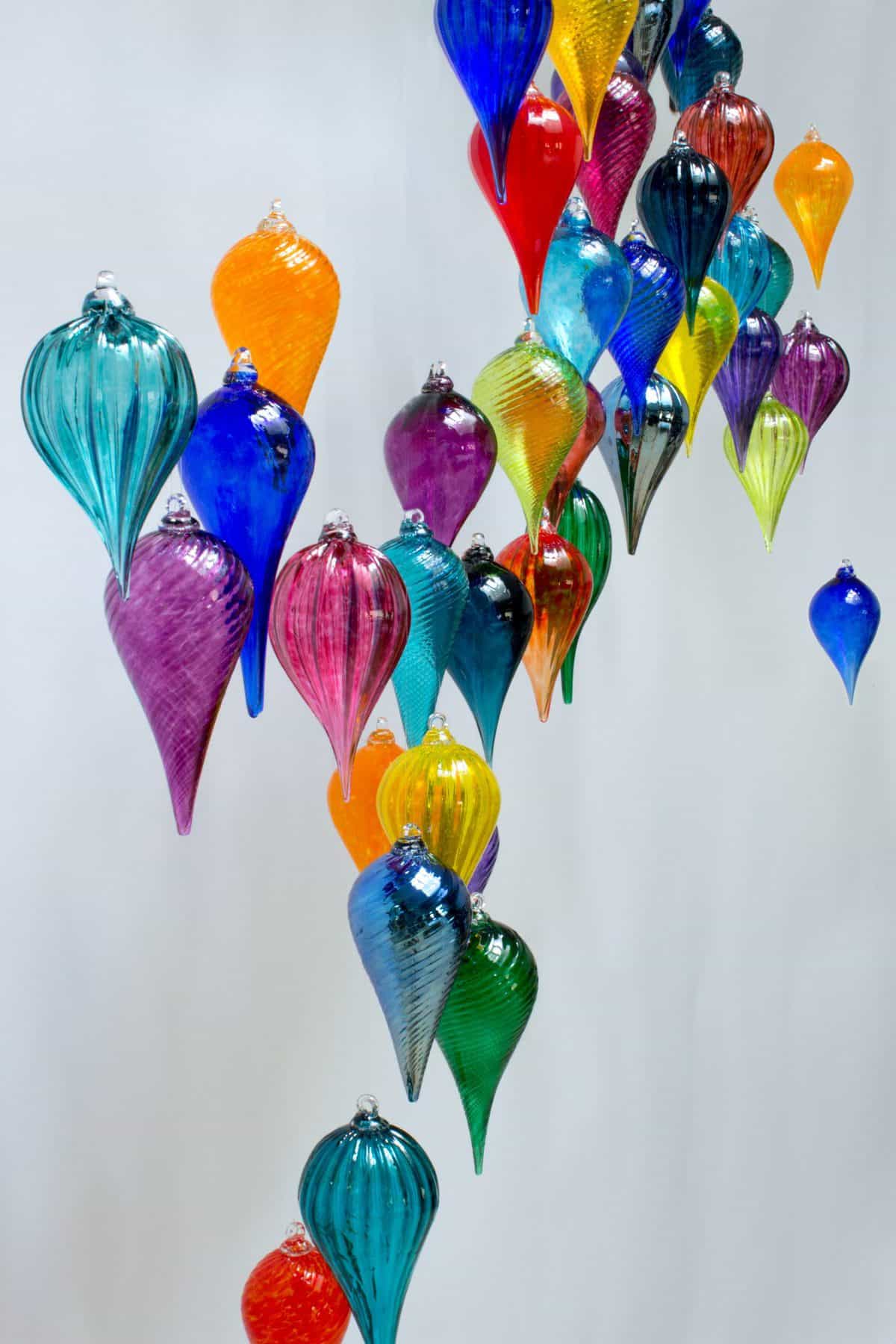 Pictured here are our
Finial Ornaments
. These tear-drop shaped beauties are a new addition to our ornament collection. They've been a big hit this year! We wanted to create something that was classic in appearance, but would serve as a vessel for lots of interesting colors and a variety of textures.
Ornaments and other Christmas tree decorations are treated like heirlooms by many families. Often they're lovingly passed down from generation to generation. When people are adding new ornaments to their collection, they want to get something special that's going to last a lifetime. They want something that will make them smile when they pull it out of the storage each year. We have so much respect for these time honored traditions, and we're feel lucky to be a part of them as they evolve.
During our Holiday Show, we offered hands-on Icicle Ornament making workshops for our customers. Being able to design and make your own ornament is not only a lot of fun, but it makes the finished product that much more special. Our workshops are designed to be suitable for (almost) all ages. As you can see in the image below, this ends up being a really fun activity for kids, and it teaches them about the level of care and craftsmanship that goes into making things by hand. In this day and age, it's easy for kids to take their unbreakable, mass produced toys and household items for granted. Adults complain that kids don't understand the value of things, but how are they supposed to understand that when everything they own was made by machines a million miles away? Giving kids an opportunity to craft something with their own two hands is a very effective way to offset that attitude.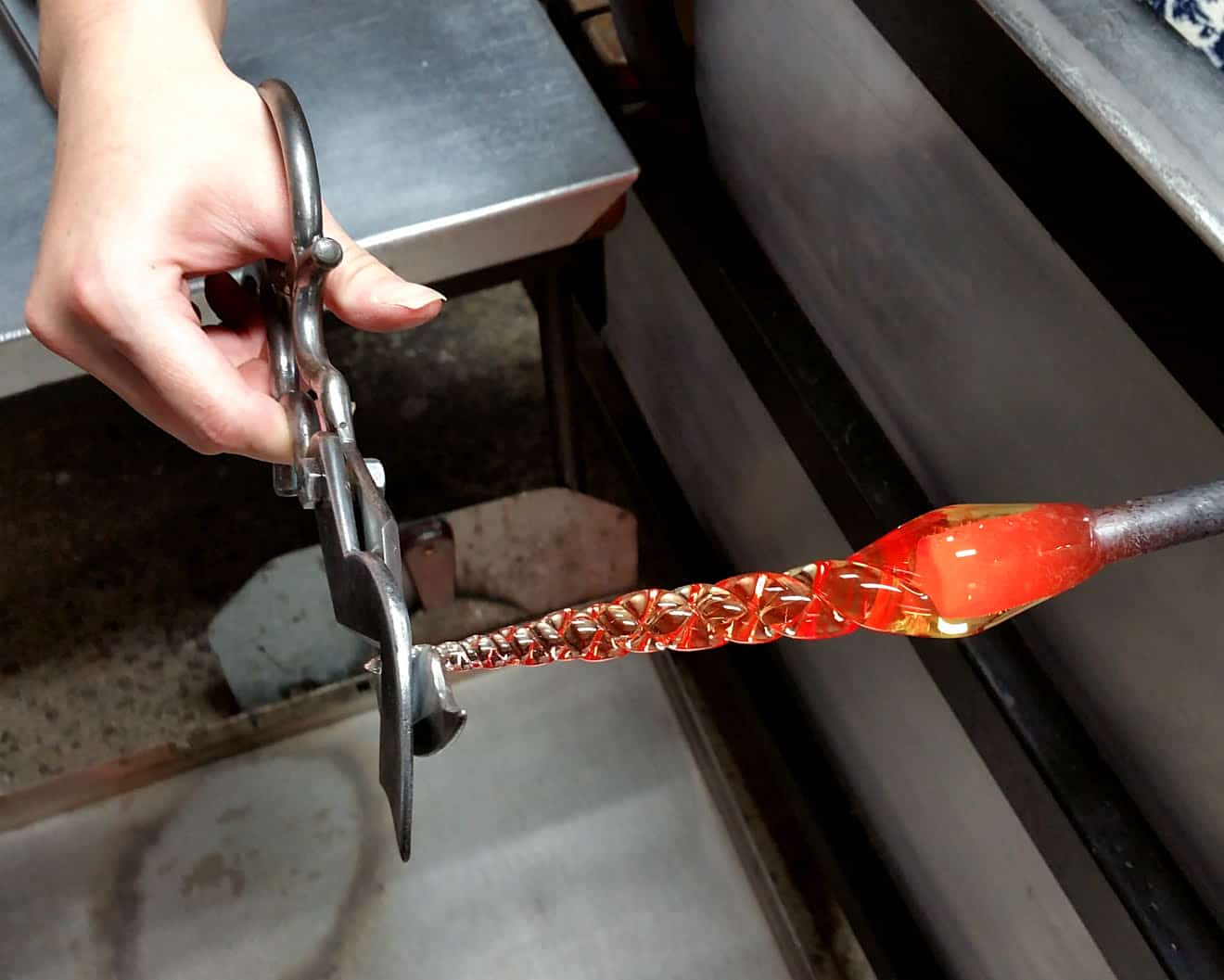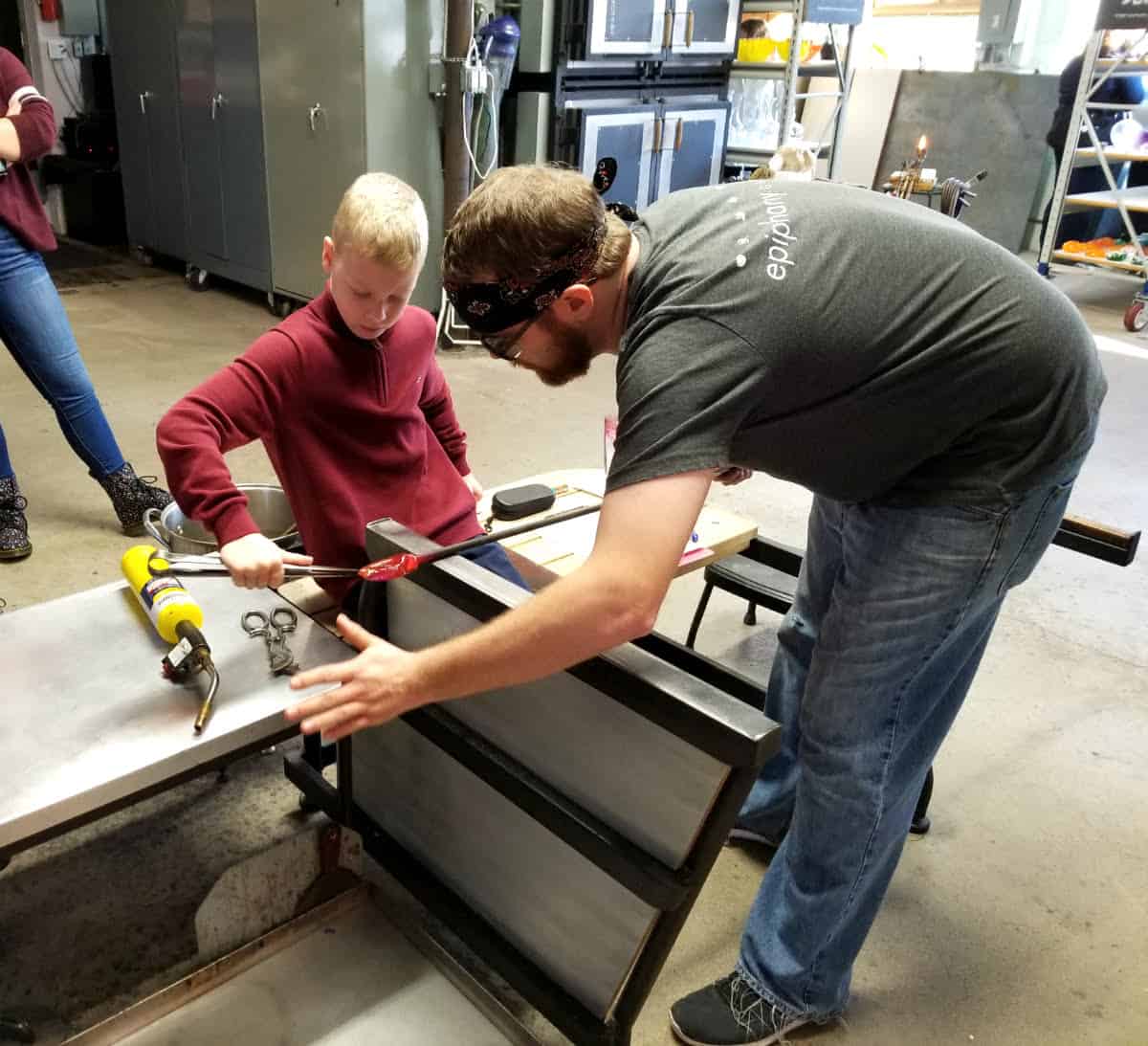 Below you can see some of our other unique ornament designs that we've perfected over the years. Many of them are saturated with bright colors, and would make an eye catching addition to any tree! We also carry some more traditional, subdued colors and designs.
We have a huge variety of ornaments available for sale through our
WEB STORE
. We're offering free shipping on all (domestic) orders of $50 or more until 12/31! We also have lots of ornaments for sale both at our store in the Guardian Building in downtown Detroit, and at our studio in Pontiac. Our store in Detroit will be open during the following hours this week:
Wednesday 12/20: 10am – 4pm
Thursday 12/21: 10am – 5pm
Friday 12/22: 10am – 5pm
Saturday 12/23: 10am – 6pm
Sunday 12/24: 12pm – 6pm
If you'd like to stop by the studio to do some shopping before Christmas, please give us a call at (248) 745-3786 to set up a time.