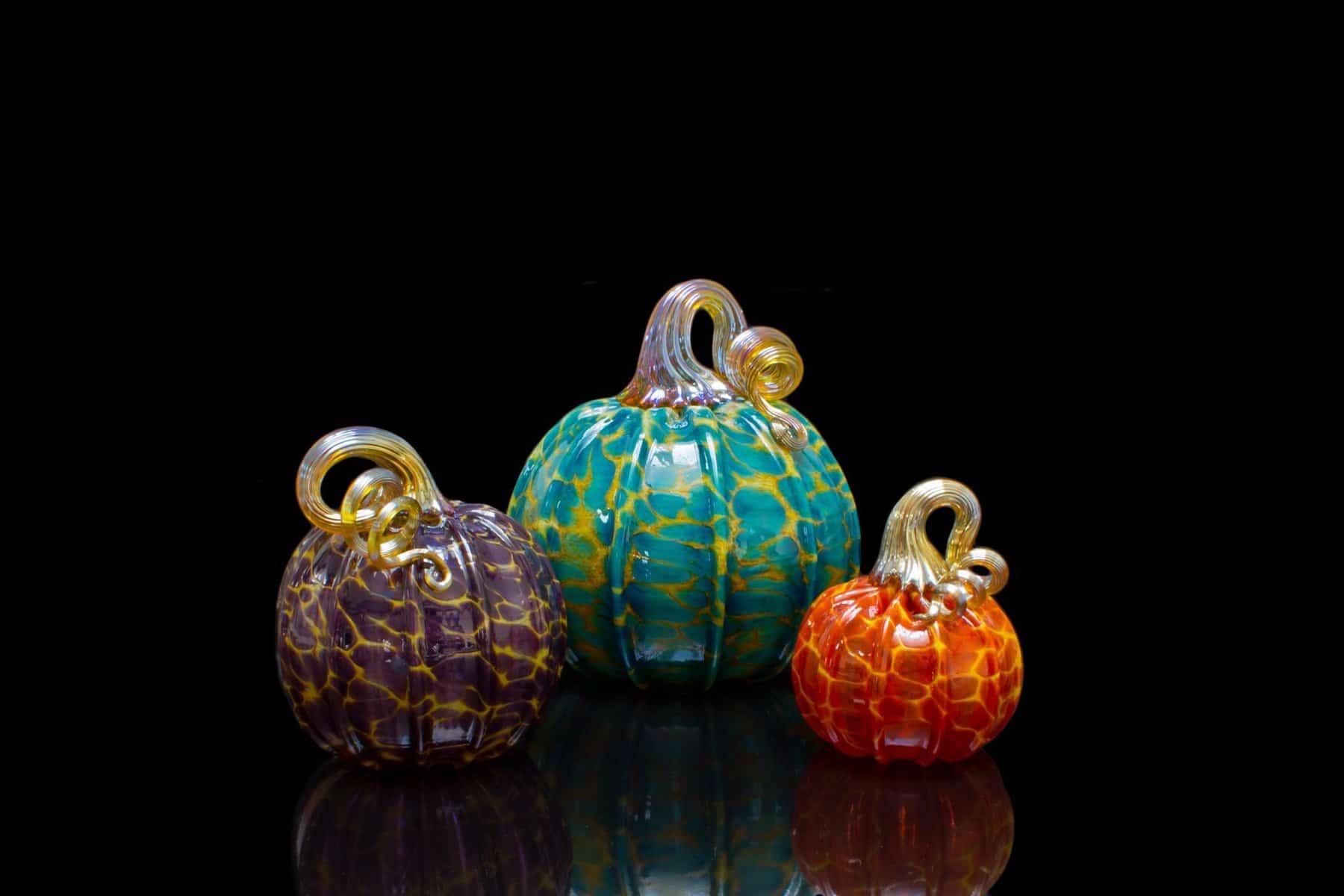 Autumn in Michigan is in full swing, and we're loving it. The studio is pumping out new sculptures, pumpkins, and ornaments like there's no tomorrow. The leaves outside are radiant with fall hues, and we Michiganders are flocking to cider mills to stuff our faces with delicious apple cider and donuts. Halloween is right around the corner, and so is winter. But for now, we're doing what we can to enjoy this gorgeous autumn season.
The pumpkins shown above are a staple of our fall inventory. These lovely little decorations are always popular this time of year. And we believe strongly in creating fall decor that will last well beyond a single season. These hand-blown glass pumpkins won't wither and fade away come winter. True, you can't make pie out of them or smash them in a fit of teenage rebellion, but their charm lies in their timelessness, not their deliciousness.
This piece is entitled "The 4 Seasons: Harvest." It's part of a 4-piece series of wall hanging sculptures. Here you can see a variety of gourds and squash and such, each made from hand-blown glass. April created this for The Stand Gastro Bistro in Birmingham, MI. This glass cornucopia, with its beautiful fall colors, is the perfect embodiment of the season. Visit any farmer's market in October in Michigan and you're sure to find a selection of unique gourds, much like the ones seen here.
April's fascination with fall colors has translated into some beautiful, earth-toned sculptures like the new one seen here. This one is called "Nameko" after a unique type of Japanese mushroom. April's signature style is evident in the texture of the glass curls used in this piece. You won't find this piece hiding on a forest floor anytime soon, but the organic seeming shape and rich greens, browns, and grays make it feel like that's where it may have originated, as if it sprung up from the earth
This new sculpture currently resides at our shop in the Guardian Building in downtown Detroit. It is similarly earth-toned, but more reminiscent of fall leaves on a lake. You might see these colors swirled across a quiet lake as dry leaves fall from the trees into the water. Again, April has created a dynamic piece using inspiration taken from the seasons and the natural world.
As Autumn turns to Winter, we'll have new work coming from new places of inspiration. But before the holiday rush hits and life becomes chaotic, we like to sit back and enjoy the calm and serene beauty of fall in Michigan.